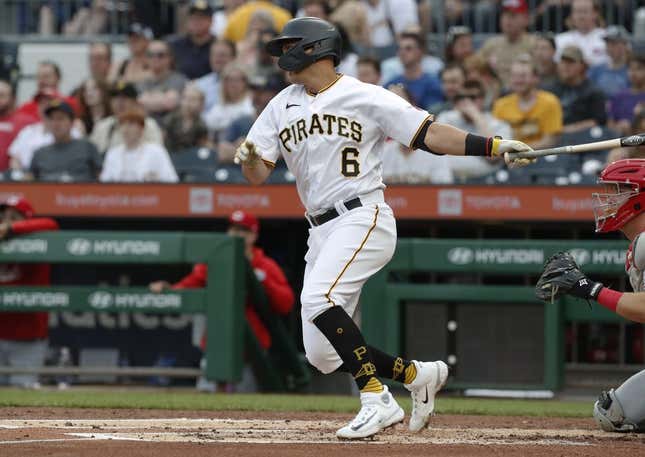 Mark Mathias drove in two runs Friday as the Pittsburgh Pirates won their fifth game in a row, 4-2, over the visiting Cincinnati Reds
Aaron Rodgers should go full Joe Namath | Comedian Bert Kreischer
Carlos Santana added an RBI double, and Connor Joe was 3-for-3 with a walk and two runs scored for the Pirates
Pittsburgh starter Mitch Keller (2-0) allowed two runs and four hits in six innings, with five strikeouts and a walk. It was the team's 11th straight quality start.
David Bednar pitched the ninth for his seventh save.
Nick Senzel had an RBI single for the Reds, who have lost four in a row and five of six
Cincinnati starter Graham Ashcraft gave up two runs and three hits in five innings, with four strikeouts and three walks.
Derek Law (0-3) yielded an unearned run and two hits in the sixth.
Pittsburgh took a 2-0 lead in the second. Joe singled to left with one out. Jack Suwinski walked. With Mathias at the plate, an Ashcraft balk moved the runners to second and third. Mathias then singled to center to drive in Joe and Suwinski.
In the fifth, Tyler Stephenson got Cincinnati's first hit, a leadoff single to right. After Wil Myers struck out, Jason Vosler walked. Senzel's base hit to right drove in Stephenson and moved Vosler to third. Vosler scored on Jose Barrero's sacrifice fly to center to tie it 2-2.
The Pirates regained the lead in the sixth. Against Law, Joe singled to right and went to second on a wild pitch. He moved to third on Suwinski's groundout. Mathias reached on Barrero's fielding error at shortstop, with Joe scoring to make it 3-2. Mathias stole second. Rodolfo Castro walked. What looked like a base hit by Austin Hedges turned into a fielder's choice as left fielder TJ Friedl threw out Mathias at home
In the seventh against Reds reliever Ian Gibaut with two outs, Andrew McCutchen walked. He came around to score on Santana's double to center to give the Pirates a 4-2 lead
--Field Level Media