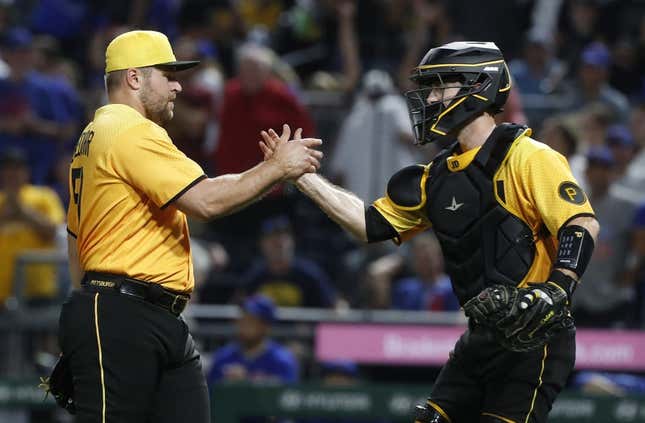 The Pittsburgh Pirates finally found a way to stop the visiting Chicago Cubs, but it's likely not a formula they can repeat.
How running an NFL team is like running a restaurant | Chef Emeril Lagasse
It took eight scoreless innings Friday by All-Star Mitch Keller to cool off the Cubs, who had won the series opener 5-4 in 10 innings as well as five of their previous six games.
Pittsburgh All-Star closer David Bednar gave up a ninth-inning homer to Ian Happ Friday, leading to tense times in the eventual 2-1 win.
"Anytime you play a (National League Central) division opponent, you want to come out and play your best baseball," Keller told AT&T Sportsnet. "Hopefully (this) set us up for a playoff run, and when we do get there, we can know that we got these guys and just really know our game plans going in."
If Keller meant a playoff run this season, that's looking unrealistic. Even after the win, the Pirates are 13 games under .500, while the Cubs lost on a day after reaching a season-best seven games over .500. Chicago is in the heart of the chase for an NL playoff spot.
Chicago had been 7-0 against the Pirates this season before Friday.
Pittsburgh likely will need to be more opportunistic against the Cubs after leaving seven runners on base and going 1-for-11 with runners in scoring position Friday.
"That's going to be a focal point," Pirates manager Derek Shelton said. "We cannot lose those opportunities to score, especially against a team like the Cubs that's chasing a division title, chasing a wild-card (spot)."
Beyond that, Pittsburgh will have to find a different path if it wants to win one or both of the remaining contests in this four-game series.
The Pirates have been filling out the rotation with spot starts, call-ups and openers.
On Saturday, it will be right-handed reliever Colin Selby (1-0, 7.27 ERA) in his first major-league start and first appearance against the Cubs. Chicago, in turn, has right-hander Javier Assad (2-2, 3.13) as its projected starter.
Assad has spent most of the season as a reliever after some early struggles but has been in the rotation this month. He has been putting up good numbers, going 1-0 with a 2.86 ERA in four starts in August.
On Monday against Detroit, he did not get a decision despite giving up two runs — on back-to-back solo homers in the sixth — and five hits in 5 1/3 innings.
Assad pointed not to the details of that outing but to the support of his teammates in that game for his confidence. The Cubs took a 3-0 lead through two innings.
"Getting the advantage, the lead, was huge," Assad said. "It definitely helped me become more aggressive and just overall grew the confidence."
Assad has faced the Pirates once, a start last Sept. 23. He did not get a decision after pitching four innings, giving up four runs (three earned) and four hits.
—Field Level Media