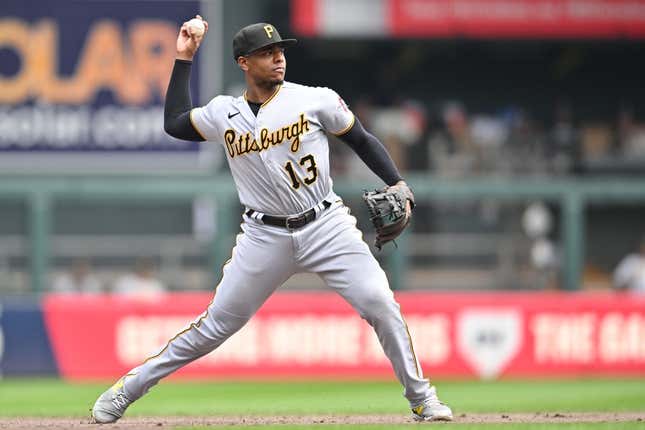 The two worst teams in the National League Central will meet on Monday when the St. Louis Cardinals visit the Pittsburgh Pirates in the opener of a three-game series.
How running an NFL team is like running a restaurant | Chef Emeril Lagasse
The Pirates sit fourth in the division, with the Cardinals 1 1/2 games behind them. Only the Colorado Rockies have a worse record in the NL.
St. Louis, which is 27-33 on the road, snapped a four-game losing streak on Sunday with a come-from-behind 7-3 win over the New York Mets. Cardinals first baseman Paul Goldschmidt had three hits, including a two-run homer in the fifth to put St. Louis on top 3-2.
Goldschmidt was 0-for-7 in his previous two games and 2-for-16 in his previous four entering Sunday.
"It (had) been a rough few days for me and our team," Goldschmidt said. "It was nice to be able to get that hit and put us on top, and the rest of the guys did a great job to keep us there.
"I'll keep trying to play well."
Meanwhile, Pittsburgh has lost five of its last seven games.
The Pirates' offense has been kind to opposing starters over the past couple of games. At least that's one way to look at it.
Minnesota's Sonny Gray pitched 5 1/3 perfect innings on Saturday in a game Pittsburgh came back to win 7-4 behind five RBIs from designated hitter Andrew McCutchen.
In Sunday's rubber match of the three-game series, Dallas Keuchel pitched 6 1/3 perfect innings as the Pirates lost 2-0, mustering just two hits.
Pittsburgh manager Derek Shelton said the circumstances were different and there was no carryover from Saturday to Sunday
"We just didn't have any scoring opportunities (Sunday)," Shelton said.
The Pirates will look to get their offense going on Monday against left-hander Drew Rom, who is expected to be summoned from Triple-A Memphis to make his major league debut.
Rom was the primary pitching prospect acquired from Baltimore in an Aug. 1 trade deadline deal that sent right-hander Jack Flaherty to the Orioles.
"He's got some swing-and-miss, which is exciting," Cardinals manager Oliver Marmol said of Rom. "We get to take a peek at it, and I look forward to it."
In two starts at Memphis, Rom recorded a pair of victories, allowing just two runs (one earned) in 11 innings — good for an 0.82 ERA. He also made 19 appearances (18 starts) for Triple-A Norfolk this season while in the Orioles' organization. During his time there, Rom went 7-6 with a 5.34 ERA.
Left-hander Matthew Liberatore was originally scheduled to take the mound for St. Louis on Monday, but his start was pushed back to Wednesday after he had some back discomfort following a weightlifting workout.
"He was no-throw for two days in order to let it calm down, so we'll just push it back two days to allow him to get a bullpen in and then still be able to be ready for Wednesday," Marmol said.
Pittsburgh has yet to name a starter for the series opener.
—Field Level Media