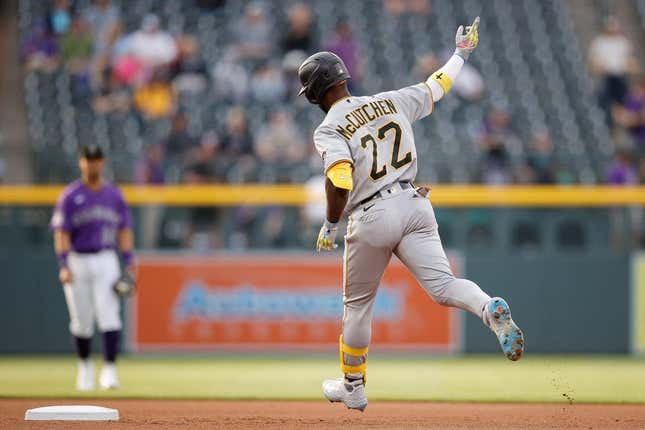 Mark Mathias had four hits, Andrew McCutchen and Jack Suwinski both homered and the Pittsburgh Pirates beat the Colorado Rockies 14-3 in Denver on Monday night
'Soccer fandom is full of gatekeepers' says Ted Lasso actor Brendan Hunt
Ke'Bryan Hayes, Bryan Reynolds and Carlos Santana added two hits apiece and Ji Hwan Bae scored three times for Pittsburgh, which has alternated wins and losses over its last 10 games.
Kris Bryant homered and finished with three hits and Jurickson Profar had two hits for Colorado, which has dropped six in a row.
Rockies starter Kyle Freeland (2-1) was roughed up in the first two innings
McCutchen gave the Pirates a 1-0 lead with a two-out solo homer in the first inning, his third of the season, before Pittsburgh hit Freeland hard in the second
Connor Joe led off with a walk and moved to third when Rodolfo Castro reached on an error. Mathias followed with an RBI single, and Bae brought home Castro when he reached on a sacrifice bunt.
Austin Hedges drove in Mathias with a single and then pulled off a double steal with Bae to put runners on second and third. Hayes and Reynolds followed with RBI singles and Santana drove in the final run of the frame with a groundout to make it 7-0.
Castro led off the third with a double, Mathias singled and Castro scored on Bae's fielder's choice. Bae moved to second on a groundout and scored on a single by Hayes.
That was all for Freeland, who allowed nine runs (seven earned) on eight hits in 2 2/3 innings.
Bryant went deep for the second time this season in the bottom of the third to make it 9-1.
Pittsburgh made it 13-1 with a four-run fifth, capped by Santana's two-run single.
It was more than enough for Rich Hill (1-2), who allowed one run on six hits and struck out seven in six innings. He walked two.
Colorado got two runs in the eighth on a double by Mike Moustakas and a sacrifice fly from Harold Castro.
Suwinski hit a solo shot into the second deck in right field in the ninth.
--Field Level Media