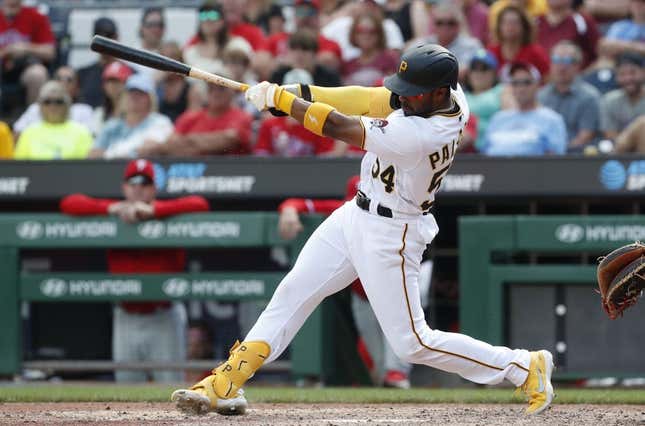 The Pittsburgh Pirates and visiting Detroit Tigers each have 47 wins heading into a two-game interleague series that begins Tuesday
How running an NFL team is like running a restaurant | Chef Emeril Lagasse
Pittsburgh, which has answered a five-game losing streak by going 6-4, is coming off its second consecutive series win. The Pirates captured the rubber match of a three-game series against the Philadelphia Phillies on Sunday with a 6-4 win in 10 innings
"We're a resilient group, and we're going to battle, and I think (Sunday) was a good representation of that," said Pittsburgh's Josh Palacios, who hit a walk-off homer to win that game. "No one really cares about what the score is or where we might be in the standings. Just go out there, battle, be free, play the game free and good things will happen.
Detroit, in turn, has lost five of its past six games. In addition, the Tigers squandered a four-run lead in an 8-6 setback to the Miami Marlins on Sunday
"A winnable series that we didn't win," Detroit manager A.J. Hinch said. "We have these close games, everything matters, whether it's your reads, your leads, your slide at home plate.
Thanks to a makeup game, the Tigers played 17 games in as many days since the All-Star break before an off day Monday
"It would have tasted a lot better if we won (Sunday), but we're going to regroup and get back after it Tuesday," Detroit infielder Zack Short said
The Tigers and Pirates split a two-game set in Detroit in May, with both teams recording one shutout win
In the series opener on Tuesday, Detroit's Matt Manning (3-2, 4.32 ERA) and Pittsburgh's Johan Oviedo (4-11, 4.60) are scheduled to start in a battle of right-handers
Oviedo is second to Pirates ace Mitch Keller with 10 quality starts, but those haven't translated to wins often enough
Oviedo snapped an eight-game losing skid after allowing one run on three hits in six innings Wednesday at San Diego
"What I'm trying to do is get ahead (in counts), get quick and soft contact so I can move forward and go through a better game," Oviedo said
Oviedo has faced the Tigers on one occasion, in 2021 as a member of the St. Louis Cardinals. He started and took a loss after giving up six runs on six hits in 3 2/3 innings
Manning is coming off a loss Thursday against the Los Angeles Angels in the second game of a doubleheader. He allowed seven runs and seven hits -- including three homers -- in five innings
Three of those runs came on two homers hit by Shohei Ohtani, who pitched a complete-game shutout in the first game
"He probably had the greatest day of baseball that anyone has ever seen," Manning told MLB.com. "It was incredible. I'm proud I didn't shy away from it. Even when I got behind in the count, I went right at him. Tip your cap. It is what it is.
Manning has faced the Pirates once, a start in 2021. He did not get a decision after pitching three innings and giving up one run and four hits with four strikeouts and no walks
--Field Level Medi