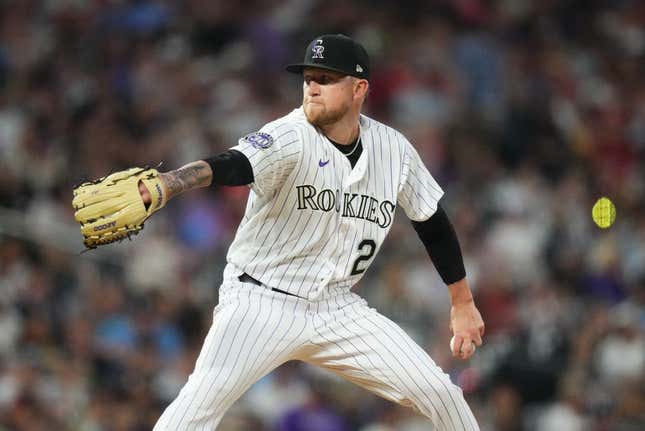 The Pittsburgh Pirates have been somewhat of a surprise early in the season, and they have been able to compile a winning record despite dealing with adversity
In the past week, Pittsburgh has put three players on the injured list, including rising star Oneil Cruz, who broke his ankle on April 9 and will miss four months. On Saturday, first baseman Ji Man Choi was placed on the IL with a left Achilles injury and reliever Rob Zastryzny joined them on Sunday with left elbow discomfort.
Despite that, the Pirates nearly took three of four in St. Louis but settled for a split after the Cardinals took the final game, 5-4, in 10 innings
Now Pittsburgh heads to Denver for a three-game series against the Colorado Rockies that starts Monday night
Rich Hill (0-2, 7.20 ERA) will take the mound against Colorado's Kyle Freeland (2-0, 0.96).
Hill is 1-4 with a 5.68 ERA in seven career starts against Colorado, with his only win coming at Coors Field on Sept. 9, 2018, when he was with the Los Angeles Dodgers. It was his last start against the Rockies
Pittsburgh has been struggling to score runs without Cruz in the lineup. With him in the lineup, the Pirates averaged 4.7 runs a game, but have posted an average of just 3.4 since he's been out
The challenge is replacing Cruz's bat atop the order. Ke'Bryan Hayes and Ji Hwan Bae have platooned at leadoff for the past week.
"Cruz was awesome there, but I think Bae can do it," Hayes said. "He can put the ball in play a lot. He can run. I think he's the perfect guy."
Colorado is trying to get back on track after dropping five straight, the last three coming in Seattle over the weekend. The Rockies have gone 3-11 since winning their first two games of the season and were no-hit for six innings before losing 1-0 Sunday
They haven't had trouble scoring runs, but the pitching has been suspect after Freeland. The Denver native has looked like he did in 2018 when he finished fourth in National League Cy Young Award voting. He started this season by not allowing a run in his first 13 innings and left his last start with a lead before St. Louis rallied to win.
Freeland is making his eighth career start against the Pirates and is 3-2 with a 3.75 ERA in his previous outings against them
Freeland has learned from his struggles the past few seasons as he tries to recapture the form that saw him go 17-7 with a 2.85 ERA in 2018.
"You can never get complacent with your stuff and how you're pitching," Freeland said. "If you are complacent, then the game will humble you really quickly. I believe that's one of the things that happened to me in 2019.
"I kind of thought that I had it figured out, which clearly I didn't. Now I know that even the best in the game are going to have struggles, they are going to have ruts."
--Field Level Media