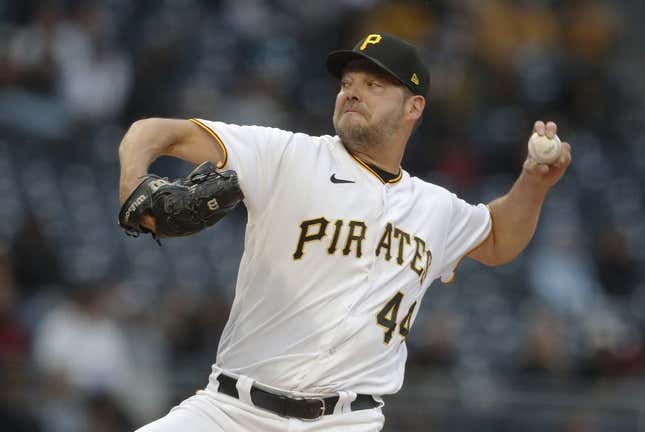 Maybe Mother Nature will cool off the Pittsburgh Pirates
Riding one of their hottest stretches in recent years, the Pirates were halted to some degree with the postponement of their scheduled Friday series opener against the host Washington Nationals
Chris Paul should ride the bench next season | Keep it a Buck(et)
The teams will play a day-night doubleheader on Saturday in Washington.
Pittsburgh has won nine of its last 10 games. The Pirates' only off day since April 6 came on Monday -- and they lost the next day
The Pirates are 10 games above .500 for the first time since 2015
"The focus is winning this year," first baseman Connor Joe said. "It's all we are worried about. We are worried about the team."
The Nationals have won four of their past six games. That's a bright spot despite a 9-8 road loss to the New York Mets on Thursday that prevented Washington from earning a three-game sweep
"We've played really, really well," Washington manager Davey Martinez said. "We've been playing really, really hard. Let's keep playing the way we've been playing."
The Nationals have won nine games all season, so they are not nearly at Pittsburgh's pace. They have received a recent boost from shortstop CJ Abrams, who has homered twice during the past week and had another game with two hits
"I'm getting better. I've been working before and after the game," Abrams said. "It's going to pay off, for sure."
Veteran left-hander Rich Hill (2-2, 4.85 ERA) is expected to start for the Pirates in the opener of the doubleheader. He produced similar results in his past two starts, both victories in which he gave up one run -- in six innings at Colorado and in five innings vs. Cincinnati
Hill is 2-4 with a 4.07 ERA in 11 all-time matchups (eight starts) vs. the Nationals
The Nationals will go with lefty Patrick Corbin (1-3, 5.88 ERA) in the first game. He has worked at least five innings in his past four starts, something that could be even more important at the back end of a doubleheader
Corbin has rung up a 5-2 career record vs. the Pirates with a 2.94 ERA in 12 starts
The Pirates will send right-hander Vince Velasquez (3-2, 3.76 ERA) to the mound in the nightcap. He will be going for his fourth consecutive victory after firing seven shutout innings and striking out 10 vs. the Reds on Sunday
Velasquez, who spent most of his career in the National League East with the Philadelphia Phillies, holds a 2-2 record with a 5.13 ERA in 11 appearances (10 starts) against Washington.
The Nationals' starting pitcher in Game 2 will be Chad Kuhl (0-1, 7.36 ERA). The right-hander spent his first five seasons (2016-18, '20-21) in the big leagues with the Pirates. He threw 96 pitches in each of his past two starts, but he failed to complete five innings in both cases
Kuhl didn't get a decision when he faced the Pirates last year, giving up one run in 4 1/3 innings
Road success has contributed to the strong first month of play for the Pirates, who have swept three-game series at Boston and at Colorado
This will be the first doubleheader of the year for both teams.
The weather forecast is better for the weekend. The teams are scheduled for only one other head-to-head series this season, a four-game sets in mid-September at Pittsburgh.
--Field Level Media