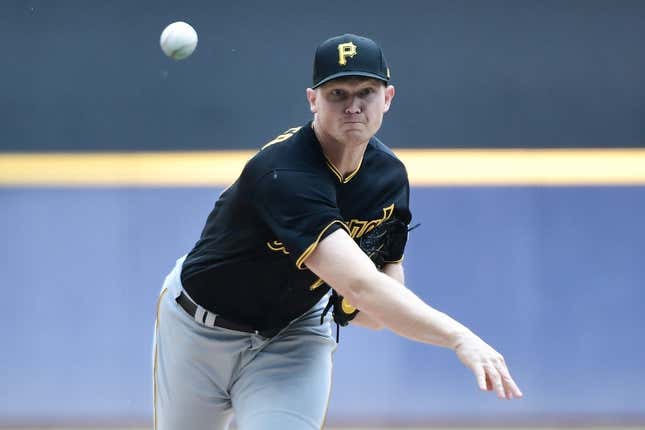 The Pittsburgh Pirates will take their rediscovered offense into the second game of a three-game series against the visiting San Diego Padres on Wednesday
How running an NFL team is like running a restaurant | Chef Emeril Lagasse
Mired in a 1-12 stretch that included four shutout losses and six other games in which they scored three runs or fewer, the Pirates busted loose on Tuesday in a 9-4 win over the Padres. They pounded out 16 hits, including three homers
One of the homers was a monster shot to dead center by Nick Gonzales, who was playing his fourth major league game. He tripled earlier in the contest for his first big-league hit. Another player recently called up for the first time, Henry Davis, went 2-for-5 with an RBI single.
"Overall, just a very well-played game," Pittsburgh manager Derek Shelton said, echoing his typical postgame comments from early in the season, but not in some time.
"When you come out and have a good night ... and you get contributions throughout the lineup, and both the young kids, Henry and Nick, having good days, I think that's important."
Pirates veteran designated hitter Andrew McCutchen had a pregame talk with his teammates
"It's just remembering the focus of what we do well," said McCutchen, whose club ended April with a 20-9 record but is 16-33 since.
Starting pitching has been one of the few bright spots for the Pirates during a rough month of June, and they will have the guy who has emerged as their ace on the mound Wednesday
Pittsburgh right-hander Mitch Keller (8-3, 3.45 ERA) will oppose San Diego left-hander Blake Snell (4-6, 3.22).
Keller came close to singlehandedly ending what was then a nine-game Pirates losing streak on Thursday when he gave up one run and five hits in seven innings with five strikeouts and no walks against Miami. However, he ended up without a decision as the Marlins rallied against the Pittsburgh bullpen for a 6-4 win
Keller is 1-2 with a 4.80 ERA in three career starts against San Diego.
The Padres have been frustratingly inconsistent recently, dropping eight of the past 12 games
"We're not in our best place right now," San Diego manager Bob Melvin said. "It's not a good feeling right now. We've got to keep digging.
"This has been a hard season on everybody. There's a lot of games left. We have to find it at some point. It has not happened to this point. We'll keep going out there and expecting to win, and hopefully we find a period where we can sustain something."
The Padres' timing might be good with Snell starting
Because projected Tuesday starter Yu Darvish was scratched due to an illness and did not travel to Pittsburgh, San Diego's pitching plans are somewhat unsettled. The team went with a bullpen game on Tuesday, with Reiss Knehr opening and taking the loss.
Assuming Snell pitches as planned, he comes in on a roll with a 0.29 ERA over his past five starts.
Snell tossed six shutout innings in each of his past two outings, against the Tampa Bay Rays on June 17 and against the San Francisco Giants on Thursday, allowing a total of five hits and three walks while striking out 23.
"I wouldn't say it's a surprise, being able to go on a run that he has been (on) lately," Melvin said.
Snell is 0-1 with a 14.29 ERA in two career starts against Pittsburgh.
--Field Level Media