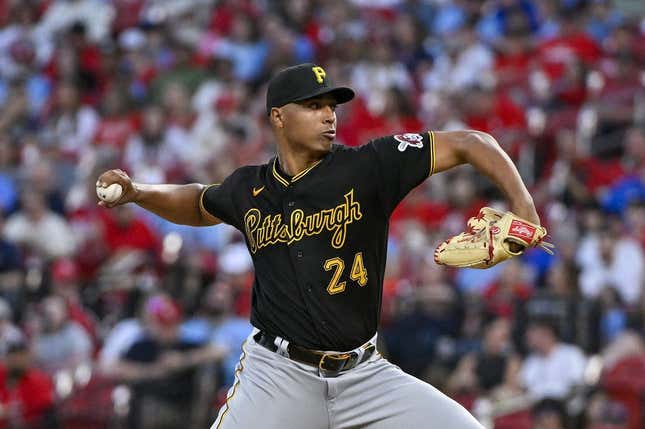 The surprising Pittsburgh Pirates will face arguably their biggest test when the Los Angeles Dodgers visit for a three-game series starting Tuesday
Through 23 games, Pittsburgh has belied its recent past, including back-to-back 100-loss seasons. The Pirates have won seven straight games, which encompasses two straight series sweeps. They have three series sweeps in all
The club had a day off Monday after going 13-4 in a stretch of playing 17 straight days. The Pirates have 16 wins -- something they didn't accomplish last year until May 18, in their 37th game
"We're continuing to get better, and I think that's the important thing," Pittsburgh manager Derek Shelton said. "We're doing little things. We're doing things that we didn't do last year. We're winning games that we would not have won last year, and I think that's the important thing."
The Pirates have scored four or more runs 15 times, winning 13 of those games
Their rotation has turned in quality starts in 12 of the past 13 games. The team is 11-2 when a starter goes at least six innings.
"It's been a good start for us here," said Andrew McCutchen, the former National League MVP who rejoined Pittsburgh this season, according to the Tribune-Review. "People didn't have that expectation of us thus far, but this ballclub and this clubhouse did. That's all that matters when we're in here. We're in this clubhouse together, so we've got to keep pushing."
Los Angeles will be the first team the Pirates face with a winning record, if only barely
The Dodgers got to a game over .500 Sunday with a 7-3 win over the Cubs in Chicago. They are 3-3 in their past five games, which is a solid representation of how their season has gone. They had one three-game winning streak, one three-game losing streak and have alternated wins and losses most of the rest of the time
They won the final two games to clinch the Cubs series, which Mookie Betts -- who made his first start at shortstop Sunday -- called "super important."
"You've got to start somewhere and fortunately, it was (in Chicago)," Betts said. "We've just got to keep playing. ... It's a long season, and you've just got to get hot at some point."
One area that has worked for the Dodgers is the long ball. They lead the National League with 43 home runs
In the series opener, Los Angeles right-hander Noah Syndergaard (0-3, 4.91 ERA) is scheduled to oppose Pittsburgh right-hander Johan Oviedo (2-1, 2.22 ERA).
Syndergaard is looking for his first win after a hard-luck loss Wednesday against his original team, the New York Mets, when he gave up two runs in six innings. His 19 strikeouts vs. four walks on the season looks representative of his career, even if his record does not.
He is 2-2 with a 2.73 ERA in five career starts against the Pirates
Oviedo is coming off a win at Colorado on Wednesday, when he gave up one run in six innings and has a 0.92 ERA over his last three starts.
He has faced the Dodgers once, last July 12 when he was with St. Louis. He picked up a win, giving up one run in 1 1/3 innings of relief
--Field Level Media