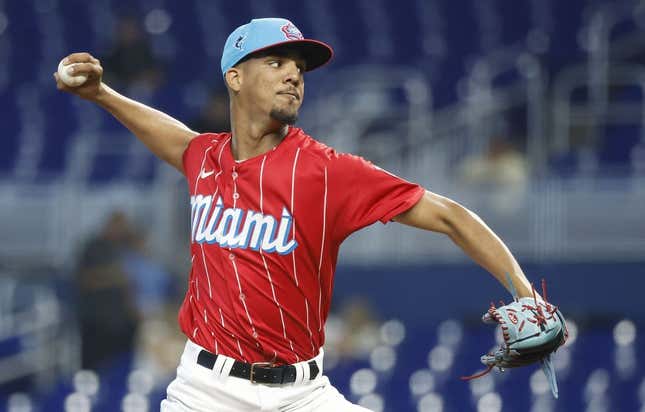 Fans of the Pittsburgh Pirates are upset
After a stellar 20-8 start, the Pirates have slumped badly. Heading into Sunday's series finale against the host Miami Marlins, the Pirates have lost 11 of their past 12 games. That includes Miami's 4-3 win on Saturday on Jon Berti's walk-off single in the 11th inning
How running an NFL team is like running a restaurant | Chef Emeril Lagasse
Pirates catcher Austin Hedges has been one of the main targets of the fans' anger, shown in repeated boos. They apparently want Henry Davis -- the first overall pick in the 2021 draft -- to start at catcher
Instead, the Pirates have played Davis at designated hitter or out of position in right field because -- clearly -- they value Hedges' defense behind the plate
But Hedges has some brutal offensive numbers, hitting just .163 with a .216 on-base percentage and a .441 OPS.
In fact, those stats are not out of characters for Hedges, who is on pace to hit below .200 for the fifth straight season.
Fans, therefore, believe that playing Hedges only serves to block Davis from learning at his natural position.
But after backup catcher Jason Delay started on Saturday, Hedges is expected to return on Sunday against Marlins right-hander Eury Perez, who could make noise for National League Rookie of the Year if he continues to excel
In eight major league starts -- none against the Pirates -- Perez is 4-1 with a 1.54 ERA
Perez enters Sunday with a streak of 15 consecutive scoreless innings. Further, he is 2-0 with a 0.41 ERA in four June starts.
Right-handed hitters are batting just .188 against Perez. Lefty hitters are batting just .177.
Nick Fortes has served as Perez's catcher for seven of his eight starts, and that pairing has compiled a 1.24 ERA.
The Pirates will counter Perez with right-hander Johan Oviedo (3-7, 4.30 ERA)
Oviedo, a 25-year-old from Cuba, already has made a career-high 15 starts. In four years split between the St. Louis Cardinals and Pirates, he is 7-18 with a 4.33 ERA, making 55 appearances, including 41 starts
In his only appearance against the Marlins -- which came almost exactly two years ago in Pittsburgh -- Oviedo pitched seven scoreless innings. He allowed six hits and walked none, with four strikeouts
This year, the Pirates are 6-9 when Oviedo starts, including three straight losses. He has been better at home (3.75 ERA) than on the road (5.08). And his ERA has improved every month this season -- 4.78 in April, 4.15 in May and 3.80 in June
Oviedo will face a lineup that has been powered all season by second baseman Luis Arraez, who leads the majors with a .401 batting average.
Beyond Arraez, outfielder Jorge Soler leads Miami in homers (21), RBIs (45) and runs (41).
Otherwise, Marlins manager Skip Schumaker has been varying his lineup -- especially with the injuries to center fielder Jazz Chisholm Jr. and third baseman Jean Segura
"You look at every day differently," Schumaker said. "You try to give guys days off. You try to get (backups) into the game, and you look at what matchups work best."
Added Berti following his game-winning hit on Saturday: "We're just here to battle from the first pitch to the last pitch."
The Pirates fell behind 2-0 in the fifth but tied the game with single runs in the eighth and ninth
"We keep grinding. We had a chance to win the first three games (of the series). The first night we pitched well and had a bad inning. Last night, did a good job, and tonight continued to battle back and just weren't able to finish it off," manager Derek Shelton said.
--Field Level Media