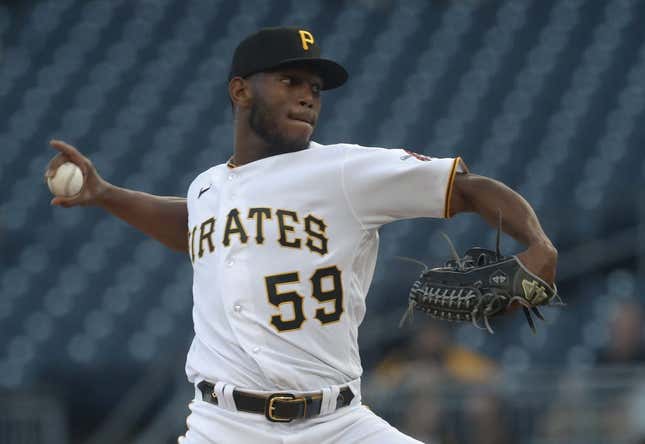 It's probably not what many would have expected a month ago looking at the series between the Tampa Bay Rays and visiting Pittsburgh Pirates that gets under way Tuesday. But here it is: This is a clash between the two best teams in baseball
Bass' ERA stinks, but not compared to who he is off the mound | Worst of the Week Countdown
Pittsburgh, with the second-best record in the majors behind the Rays, is easily the bigger surprise in that conversation. The Pirates are coming off back-to-back, 100-loss seasons and are supposed to be rebuilding
Tampa Bay was a wild-card team last year and is chasing its sixth straight winning season and fifth straight playoff appearance.
Pittsburgh had its four-game winning streak halted Sunday in a 7-2 loss at Washington but has won 11 of its past 13.
"We're talking about the best team in baseball," Pirates manager Derek Shelton said of Tampa Bay. "We're going to have to go in there and play well
"I think our guys embrace everything. They really do a good job. ... We're going into Tampa, and we need to play good baseball."
The Rays also are coming off a loss, a ninth-inning bullpen meltdown that allowed the Chicago White Sox to win 12-9 Sunday, but they had won the first three games of the series against Chicago
With just six losses, Sunday's setback really stung.
"Obviously, we've been rolling and we expect to win," said Tampa Bay reliever Jalen Beeks, who took the loss Sunday. "That's kind of the feeling, so this is pretty frustrating."
Drew Rasmussen, who started Sunday's game and gave up three runs in five innings to seem to be set up for a win, remained philosophical.
"Over the course of the first month, I think we've put ourselves in good position," Rasmussen said. "Yeah, (Sunday's game) is hard. It's tough. It (stinks).
"But it is one of those things where we played pretty well over the course of this first month (to the point that) we're in a pretty good spot right now. We'll use the off day (Monday) and we'll come back Tuesday ready to compete."
The three games could serve as a measuring stick for both clubs.
"We respect them a lot," Pittsburgh general manager Ben Cherington said of the Rays. "It's really a good team we'll be facing. We're excited to go in there and match up with them. I know we'll be prepared and play hard
"They've been successful for a while now," he continued about the Rays. "In a lot of ways, I think they're a model for a team like ours.
The only teams the Pirates have faced that don't have a losing record are Boston, Houston and the Los Angeles Dodgers. They are 6-3 against those teams
Tampa Bay has played series against three teams that don't have a losing record in Boston, Toronto and Houston. The Rays are 6-4 in those games
Pittsburgh right-hander Roansy Contreras (3-1, 3.58 ERA) is projected to start Tuesday, while the Rays have not announced a probable starter
Contreras is coming off a win Wednesday against the Dodgers when he pitched six scoreless, two-hit innings.
In his only game against Tampa Bay, Contreras started last June 26 and gave up one run in five innings but did not get a decision.
--Field Level Media