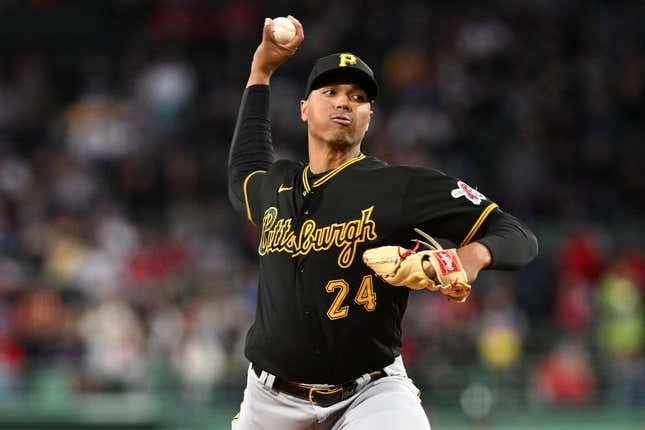 The Pittsburgh Pirates and visiting Chicago White Sox are set to play the rubber match of what has been a wild weekend series on Sunday
Bass' ERA stinks, but not compared to who he is off the mound | Worst of the Week Countdown
The teams have combined for 38 runs through two games.
The White Sox saw their pitching staff put together a relatively strong outing during an 11-5 win on Saturday following a rocky start to the season. Chicago entered that contest with the worst team ERA in the major leagues (7.70)
"I don't have concern with the pitching. I really don't," White Sox manager Pedro Grifol said. "These guys have done it before. They've done it for a while now.
Struggles on the mound have perhaps masked Chicago's potent offense.
The White Sox have pounded out at least 10 hits in each of their first six road games
In the three-game series finale, Chicago right-hander Michael Kopech (0-1, 13.50 ERA) is slated to oppose Pittsburgh right-hander Johan Oviedo (0-0, 7.71).
Kopech hasn't been able to escape the adversity faced by White Sox pitchers, but there might be a specific reason with him. In the team's home opener Monday against San Francisco, he allowed seven runs and eight hits, including a career-high five home runs, in 4 2/3 innings
That outing left Kopech and Grifol wondering if the right-hander was tipping pitches.
"(Tipping pitches) is a real thing in baseball," Grifol said. "It doesn't matter whether it's him or whoever it is. Every time somebody pitches for us, the next day we're watching video to see if anything like that is happening. That's just a part of our checklist."
Kopech thinks it's a possibility.
"There's suspicion of it," Kopech told the Chicago Sun-Times. "I don't know if there's anything to pinpoint or we can know for sure, but we looked at some things. We did work trying to clean that stuff up.
"Just make sure I'm doing the same thing every pitch. But that's part of the game now. People have technologies for it. They see it. So you have to be almost hyperaware of it without letting it control your thoughts."
In his only career appearance against Pittsburgh on Aug. 31, 2021, Kopech pitched a scoreless inning of relief, with two strikeouts, to earn a win.
Oviedo, 25, lined himself up to be a part of the Pirates rotation when he put together a 2.12 ERA over his final three starts of 2022, and his spot was secured when JT Brubaker went on the 60-day injured list because of an elbow injury
In his first start this year, Oviedo gave up five runs (four earned) and six hits with four walks in 4 2/3 innings Monday in a no-decision at Boston. He struck out four.
Those runs all came in the first, when the Red Sox hit three homers. He settled down after that, allowing six baserunners over the next 3 2/3 innings.
"I was mixing more with the sliders and curveballs," Oviedo said. "The fastball was leaking a little bit. The mix between the sliders and curveballs was a great key (Monday). Just using fastballs to attack. Try to keep it moving, change location. It was good."
Oviedo has never faced the White Sox
--Field Level Media