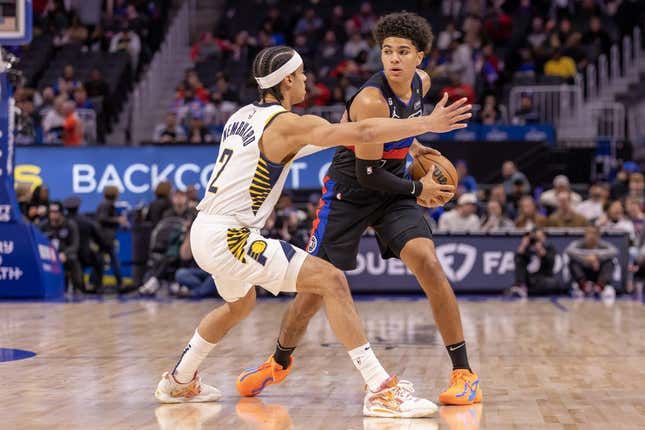 Indiana and Detroit occupy the last two spots in the Central Division. The lottery-bound teams will play their second-to-last games this season in the Pacers' home finale on Friday night
Bass' ERA stinks, but not compared to who he is off the mound | Worst of the Week Countdown
Both clubs are stumbling to the finish line. Indiana (34-46) has lost six of its last seven and eight of its last 10 contests. Detroit (16-64) has dropped 11 straight and 22 of its last 23 games.
The Pacers have played without All-Star guard Tyrese Haliburton the last five games due to an ankle injury. They scored 129 points without him on Wednesday and still lost to the New York Knicks
New York, which played without top scorers Julius Randle and Jalen Brunson, scored 32 or more points in each quarter to claim a 138-129 win.
The Pacers also played without center Myles Turner, forcing coach Rick Carlisle to use a makeshift lineup
"The guys that started the game learned some valuable things (Wednesday) about being ready to play right off the bat against a team that's very physical," Carlisle said.
New York jumped to a 32-14 lead and the Pacers spent the remainder of the night trying to recover
"They just punched us in the mouth early," forward Jalen Smith said. "We got off to a slow start. I don't think we (were) fully prepared to play as a starting unit. That was our fault. That was the reason why we dug that hole, why we lost that game."
Veteran guard T.J. McConnell came off the bench and kept the Pacers within striking range by posting 18 points and 12 assists in 22 minutes. McConnell is averaging 14.5 points in the last eight games
"We were playing unselfish, we were moving the ball, getting out running and when we do that we do best," McConnell said. "It's not about one person, it's about the collective. And when we get the ball side to side and get people touching it, a lot of teams struggle to guard it."
The depleted Pistons hung around against Brooklyn most of the way on Wednesday, then got outscored 27-18 in the fourth quarter of a 123-108 defeat. The previous night, Detroit led by a point with under five minutes to go and wound up with a 13-point loss to Miami
"We're in the game, then we kind of give in to the other team," said guard R.J. Hampton, who scored a career-high 27 points against the Nets. "I don't think the other team beats us. We beat ourselves, so if we can learn how to sustain that for 48 minutes instead of 42 minutes, I think we'll be fine."
The Pistons lost franchise player Cade Cunningham to a shin injury early in the season and have played without numerous rotation players in recent weeks. The development of rookies Jaden Ivey and Jalen Duren has provided optimism for the future. Ivey had 23 points and 10 assists against the Nets, while Duren contributed 18 points and eight rebounds
Coach Dwane Casey met with owner Tom Gores after the game.
"I think we get disillusioned a little bit about those guys not being here," Casey said. "That was the message. He was happy about the way that Ivey and Duren have grown and gotten better, which they have. That's a big plus for this year and kind of the silver lining for Cade being hurt, is the development of Ivey."
--Field Level Media