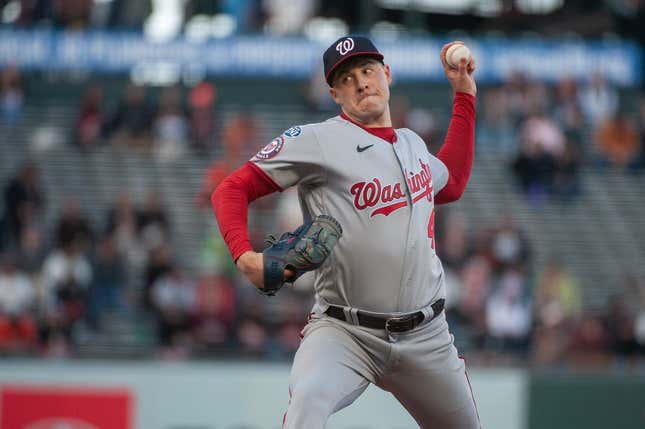 There was plenty to digest after a full day of baseball for the New York Mets and Washington Nationals. And they're not done with each other
Aaron Rodgers should go full Joe Namath | Comedian Bert Kreischer
The Mets are somewhat encouraged by offense moving forward. The Nationals are assessing some pitching options
The teams wrap up the four-game series Monday in Washington, where the Nationals will try to gain a split of the series
The teams split Sunday's results, with the Nationals winning 3-2 in the completion of Saturday's suspended game and the Mets producing all their runs in one inning to claim an 8-2 decision in the second game
"It felt like our good (at-bats) finally turned into something," Mets outfielder Mark Canha said. "It was only a matter of time.
The Mets have won only five of their last 15 games, so they need to prove they can sustain offense
"Sometimes it's just hard to get in the flow of it at this level," New York manager Buck Showalter said. "It's a very competitive place and (there are) talented people. It's hard when things don't go your way."
Even though they've won two of the three games in the series, the Mets have scored in a total of four innings in those games
Mets slugger Pete Alonso continues to lead the major leagues with 13 home runs, but he has gone four games without one
For both teams, the pitching possibilities for their bullpens could be a concern Monday if the starters aren't able to give them solid performances.
"When you've got two games like that, it's a long day for those guys," Nationals manager Davey Martinez said of his relievers
The Mets are checking on the availability of their pitchers
"A lot of moving parts," Showalter said.
The Nationals, who have lost three of their last five games, aren't exactly clicking offensively, either. They received two run-scoring hits from shortstop CJ Abrams in Sunday's second game after he had the game-winning home run earlier in the day
"He's being on time and he's staying on top of the baseball," Martinez said. "He had a really good day. We've got to keep him going."
Washington's starter Monday will be left-hander Patrick Corbin (1-5, 4.87 ERA). It has been more than a month since his lone victory, but he has worked at least into the sixth inning in all five starts since then.
Corbin is 6-10 with a 4.47 ERA in 25 career appearances (24 starts) against the Mets. The only teams he has faced more often are San Francisco (28 times) and Colorado (27 times)
Left-hander David Peterson (1-5, 7.68) is slated to be the starter for the Mets
Peterson's shortest outing of the season came Tuesday at Cincinnati when he gave up four runs in 3 1/3 innings.
Peterson is 2-0 with a 2.93 ERA in six career outings (five starts) against Washington. The Nationals are the only team that Peterson has recorded more than one win against without incurring a loss
By going with Peterson, it gives Justin Verlander an extra day between starts as he's scheduled to work Tuesday night against visiting Tampa Bay.
--Field Level Media