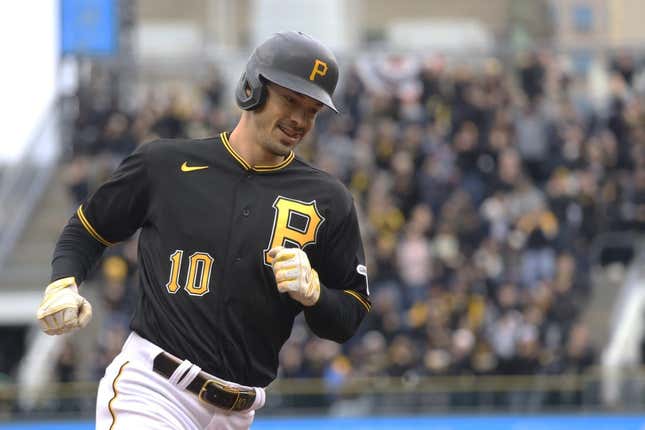 If the remaining two games of a series between the Pittsburgh Pirates and Chicago White Sox are anything like Friday's game, they might have to install seatbelts, simply for fans' safety
Bass' ERA stinks, but not compared to who he is off the mound | Worst of the Week Countdown
That's what a wild roller coaster ride the 13-9 Pittsburgh win was.
Of course, it left the Pirates feeling a lot better than the White Sox. The game was the Pirates' home opener, and it was their fourth straight win. The contest marked the return to PNC Park in a Pittsburgh uniform for Andrew McCutchen, who spent his first nine seasons with the Pirates and won the 2013 National League MVP
McCutchen, who was the designated hitter, got a long standing ovation before his first at-bat.
"I was trying not to cry, honestly," McCutchen, who was 2-for-5, told AT&T Sportsnet.
He was outshined in terms of statistics by the player who replaced him in center field, Bryan Reynolds, who hit his fifth homer of the season and drove in six runs.
"You can't draw it up any better than that," Reynolds told AT&T Sportsnet.
The Pirates finished with 19 hits, but they still gave up 11 hits and nine runs to a White Sox team that has lost three of four
While scoring hasn't been an issue for Chicago, limiting opponents' offenses has been a concern. The White Sox are giving up an average of 7.6 runs a game through eight games while averaging 5.1 runs themselves
Over the past two games, Chicago has surrendered 29 runs.
One relative bright spot Friday was White Sox reliever Jesse Scholtens, who pitched the final three innings. He gave up one run and three hits, with four strikeouts and two walks, in his major league debut
"Jesse can give us four or five innings if we need it," Chicago manager Pedro Grifol said. "That gives us the opportunity to cover a game however we need to cover it. ... He's a strike-thrower. He's got a good mix of pitches. I'm happy he's here."
On Saturday, Chicago right-hander Mike Clevinger (1-0, 0.00 ERA) is scheduled to face Pittsburgh right-hander Vince Velasquez (0-1, 5.79).
Clevinger made a solid White Sox debut on Sunday. He pitched five scoreless innings, allowing three hits and three walks and striking out eight in a 6-3 win over the Houston Astros
It was a promising beginning with a new team after he had a forgettable 2022 following missing all of 2021 due to Tommy John surgery.
"The execution was exactly how I wanted it to be," Clevinger said. "It was a good start. ... I felt really good body-wise and healthy."
Grifol, also in his first season with the White Sox, was impressed that Clevinger worked out of a few jams
"He made the pitch every time he needed to make one. Just kept competing," Grifol said.
Clevinger has never faced the Pirates
Velasquez, likewise in his first season with Pittsburgh, will be facing his former club. He went 3-3 with a 4.78 ERA in 27 appearances, nine of them starts, with the White Sox last year
He lost in his Pirates debut on Sunday, giving up three runs in 4 2/3 innings against the Cincinnati Reds
Velasquez got a no-decision in his one career start against the White Sox -- his major league debut. While with Houston on June 10, 2015, he pitched five scoreless innings
--Field Level Media