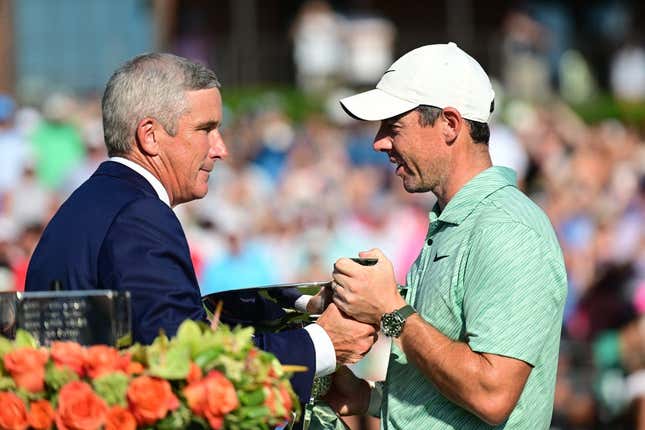 A vast majority of the 70 players who qualified for the playoffs ditched an informational meeting with PGA Tour commissioner Jay Monahan on Tuesday.
How running an NFL team is like running a restaurant | Chef Emeril Lagasse
Tour player directors Patrick Cantlay and Rory McIlroy were among the absentees and only 25 players were counted in roll call at a meeting scheduled to share "information and new details" around the pending framework agreement to merge with LIV Golf.
"There's still a whole lot that no one really knows," Rickie Fowler said. "It's just continuing to trust that leadership, everyone is doing what's best for all of us and the tour moving forward. Some of that was talked about — in calls before this. There really wasn't that many guys in the meeting, or less than I thought there would have been."
Tom Hoge told the Associated Press following the meeting there's a "good chance" a deal between the two circuits won't get done. He didn't elaborate or provide context around the statement. The 34-year-old is ranked 46th in FedEx Cup points and in the field at Memphis this week.
The pre-tournament gathering was Monahan's first meeting with players since he returned from medical leave in July. He told reporters that anxiety around the agreement with LIV Golf caused his leave of absence.
McIlroy recently doubled down on his long-held anti-LIV Golf position, saying last month that he'll retire before playing on the circuit. The comments came after McIlroy said Monahan's announcement made him out to be a "sacrificial lamb" as the media-facing voice of the Tour standing up to defend himself and others who stayed, resisting the tug of massive LIV paydays funded by Saudi Arabia's Public Investment Fund.
Scottie Scheffler said Wednesday that players aren't anticipating rapid progress or immediate changes.
"The position where I'm sitting now, it just seems like they've got a long way to go in that sense to where there's still not really much to say. We still don't really have a great idea as to what is going on right now," Scheffler said.
Along with newly appointed player director Tiger Woods, players seized more control over the agreement with LIV in a measured mixture of refusal rights and grants of approval on developments involving the PGA-LIV deal and other plans that might come to light.
Part of the agreement assures player directors are kept up to date on the latest developments in LIV talks, which might stand to make in-person meetings with Monahan superfluous in the minds of some players. McIlroy, according to reports in Memphis, was not in the meeting but at a weightlifting workout.
Sergio Garcia said Thursday that it's not just the PGA Tour players who are digging in their heels.
He said he doubts he would rejoin the PGA Tour based on what he labeled a family-friendly LIV schedule.
"I mean, I can't speak for everyone else," Garcia said. "... I think that everyone around here is very happy and very comfortable where they are. Speaking for myself. Like I said, I wanted to come here to LIV, not only because I love the product but because I wanted to play less. (If) the possibility of playing PGA Tour comes, I doubt that I would play because I don't want to play more."
—Field Level Media