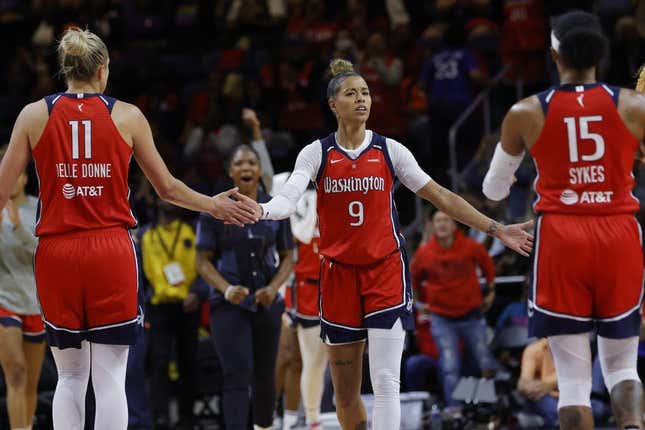 The Atlanta Dream and Washington Mystics each clinched playoff spots in their most recent contests.
How running an NFL team is like running a restaurant | Chef Emeril Lagasse
Now the teams will clash for postseason positioning when the Mystics and Dream meet on Friday night in Washington, D.C.
Both teams possess 18-20 records and are tied for sixth place with two games left. Atlanta won two of the three previous matchups this season.
"I'm really proud of their effort," Dream coach Tanisha Wright said after Wednesday's clinching 79-68 victory over the visiting Seattle Storm. "It's nice to be in, but we've still got two more games that we've got to go out and try to win. It's great that we made it. Now we'll turn around and play Washington."
Atlanta is part of the postseason for the first time since 2018. Monique Billings, who had season bests of 15 points and 14 rebounds against Seattle, is the lone player remaining from Atlanta's 2018 playoff squad.
Allisha Gray scored 18 points against the Storm and Cheyenne Parker added 17.
"Making the playoffs is not an easy thing to do in this league," Parker said. "To be able to do it with this group is special and important to me."
The Mystics wrapped their postseason berth up on Tuesday when they recorded a 100-77 road victory over the Phoenix Mercury.
"It is like a weight off your shoulders because you don't want to depend on anybody else to determine your fate," said point guard Natasha Cloud, who had 20 points and 10 assists against Phoenix. "Now we play for seeding."
Washington has fought through a plethora of injuries this season but the expectation of reaching the postseason never wavered.
But there is one other goal for the club to accomplish in the eyes of veteran Brittney Sykes.
"We still need to win those two games because we have a chance to finish out even at the end of the year (over) 40 games," Sykes said after scoring 18 points against Phoenix. "I want to see 20-20 and not more losses than wins."
Two-time league MVP Elena Delle Donne scored a game-high 24 points against the Mercury.
The Mystics routed the Dream 109-86 in the first meeting in Washington on June 28. Atlanta notched a 94-89 home victory two nights later and posted an 80-73 home victory on July 30.
—Field Level Media