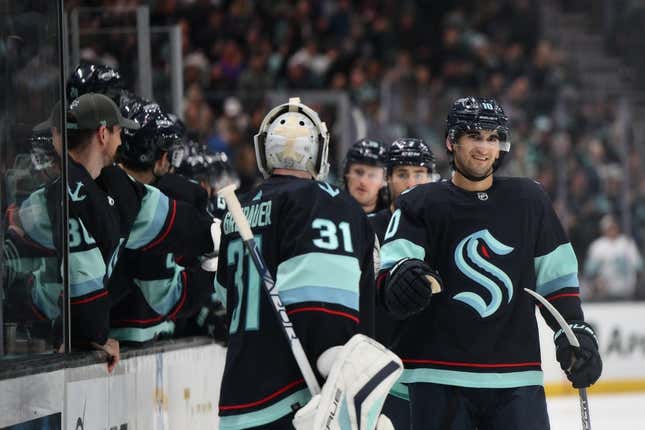 They've tried their best to avoid it, but the Seattle Kraken can now start thinking -- and talking -- about the playoffs
'Soccer fandom is full of gatekeepers' says Ted Lasso actor Brendan Hunt
The Kraken clinched a Western Conference wild-card berth with a 4-2 victory against the visiting Arizona Coyotes on Thursday. They have four regular-season games remaining, starting with Saturday night's home game against the Chicago Blackhawks
The Kraken (44-26-8, 96 points) also set an NHL record for victories in an expansion team's second season
"It feels great," Kraken coach Dave Hakstol said of the playoff berth. "Day 1, that's where you want to work toward and be part of. The group in the room there earned it, they earned it from Day 1.
Jared McCann and Jordan Eberle had a goal and two assists apiece and rookie Matty Beniers had one of each in Thursday's victory. Vince Dunn also scored and goaltender Philipp Grubauer made 27 saves.
It's been quite the turnaround for the Kraken, who finished 30th of 32 teams in their expansion season with a 27-49-6 record
"It's unbelievable, it's hard to put into words, the excitement, the growth, the steps we've taken and the way we've come together," Kraken forward Jaden Schwartz said. "It's obviously exciting ... everyone's just really fired up that we're in the playoffs. It's a dream come true for us, and to be able to do in our second year is pretty special.
Beniers, who a year ago was playing for Michigan in the NCAA's Frozen Four, doesn't seem nervous about what's ahead.
"I know it's going to be harder, faster, more physical," Beniers said of the playoffs. "But I think we've got a team that plays the right way all the time. That's how we got to this position. I think if we keep doing a lot more of the same, we'll be just fine in the playoffs."
Hakstol said the Kraken won't rest with a chance to improve their playoff positioning. They can still finish as high as second place in the Pacific Division
"This group believed in it and pushed through that finish line, and I don't believe they're done yet," Hakstol said. "Points are still valuable to us in terms of positioning and how you're feeling going into the playoffs. We'll find out who (we play) and then go to work. That's just what the group does. Go to work."
The Blackhawks (25-47-6, 56 points) entered the weekend tied with Columbus and Anaheim for the fewest points in the league
They're coming off a 3-0 loss Thursday at Vancouver, the ninth time they've been blanked. Alex Stalock made 26 saves for Chicago, which has lost nine of its past 10 games in regulation.
Blackhawks coach Luke Richardson said his team has bounced back from tough losses before
"That's kind of been the way we worked all year," Richardson said. "We'll just keep staying positive. We've had a couple of stale games earlier in the year and we usually come back and get some goals the next game, so we know there'll be there."
This will be the teams' third and final meeting this season. They've split a pair of games in Chicago, with the Blackhawks winning 5-4 on Oct. 23 and the Kraken taking an 8-5 decision on Jan. 14 when McCann had his first NHL hat trick
--Field Level Media