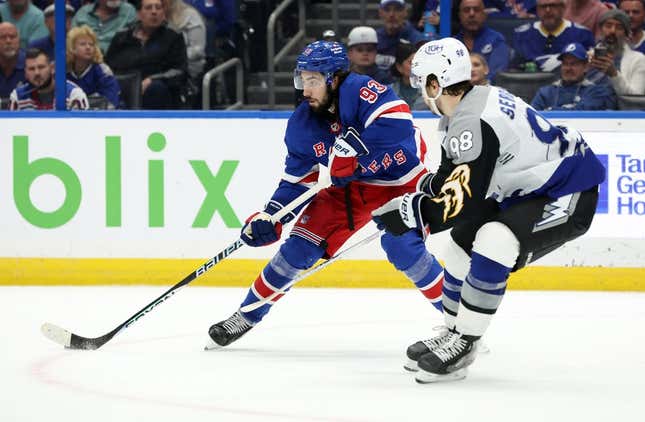 In their final regular-season meeting Wednesday night in New York, the Tampa Bay Lightning and Rangers find themselves basically as mirror images of one another when it come to the standings
The two Eastern Conference playoff-bound sides both reside in third place in their divisions with time running out on the chance to climb up to second. But both are well-rested for Wednesday.
And the foes they are chasing are within striking distance.
For the Atlantic Division's Lightning (45-26-6, 96 points), the five remaining games may not be enough for them to pass the Maple Leafs, mainly because Toronto has six games left to play and owns the second spot by four points
That includes an April 11 matchup in Tampa in the season's penultimate contest.
Tampa Bay played on the Rangers' ice most recently on opening night on Oct. 11, losing 3-1 as Mika Zibanejad found the back of the net twice for the Metropolitan Division squad
After Wednesday, coach Jon Cooper's team will play at the New York Islanders and Ottawa Senators to wrap up its final regular-season road trip.
The club will then return to the Sunshine State for what could be standings-altering matches against the Leafs and Detroit Red Wings.
In its most recent outing against the Islanders, the Lightning were outstanding defensively and offensively in Saturday night's 5-0 home victory
Goaltender Andrei Vasilevskiy set the tone in goal with a 38-save shutout -- his fourth this season -- and his second in the past three starts. He blanked the Carolina Hurricanes, 4-0, on the road last Tuesday.
"I think what you're seeing is we're helping him out more," Cooper said. "He's superhuman, but he's still human. You can't give some of the chances we've given up on rushes and things like that. When you start cutting those out, (he) usually takes care of the rest."
On Monday, Vasilevskiy (30-20-4) earned First Star of the Week honors after going 3-0-0 against the Hurricanes, Washington Capitals and Islanders. He made 99 saves on 100 shots.
Against Washington in the nation's capital Sunday, the Rangers (45-21-11, 101 points) got a third productive performance in four matches from the line consisting of youngsters Filip Chytil, Kaapo Kakko and Alexis Lafreniere
Kakko and Lafreniere each netted their 16th goals, and in keeping their identical stats, each player has 22 assists. Chytil has 22 tallies and 21 helpers as part of the group known as "The Kid Line."
"You can tell they're on the same page," said Zibanejad, who has notched a club-best 39 goals. "They've played a lot of hockey together and they're having fun. They're working hard. It's fun to see them play, and it's obviously very important."
Added Rangers coach Gerard Gallant of the trio: "They really led the way again.
Defenseman Ryan Lindgren (shoulder) was out for the 17th time in the past 18 games, but New York won for the 10th time in 14 outings (10-2-2).
The Rangers, who have five games remaining just like New Jersey, trailed the second-place Devils by three points entering Tuesday night's action
While New York has the Lightning and Leafs left to play in its final quintet, it also meets non-playoff clubs St. Louis, Columbus and Buffalo
--Field Level Media