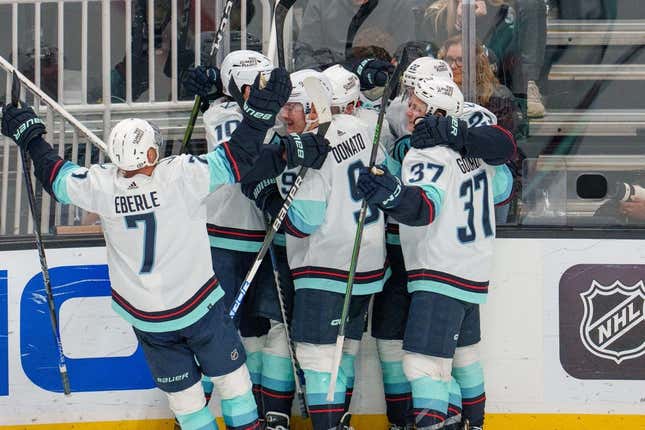 The Seattle Kraken can clinch their first Stanley Cup playoff berth with a victory Thursday night against the visiting Arizona Coyotes
Air Jordans are more American than McDonald's French fries | Deon Cole's Ultimate Sports Fantasy
The Kraken (43-26-8, 94 points) already have the most points by an expansion team in its second season since the league expanded from the Original Six era in 1967-68. Seattle also leads the Western Conference wild-card race
Seattle's chances look good, considering the Coyotes (27-38-13, 67 points) are on an eight-game winless streak (0-6-2), which includes an 8-1 defeat Monday at Climate Pledge Arena in Seattle
"Every two points is big," Kraken coach Dave Hakstol said. "We talk about it all the time. You don't look too far back and you don't look too far forward. You just worry about working and doing what you have to do to get two points and the score doesn't matter.
While the Coyotes have been taking a few days off in Seattle, the Kraken traveled to Vancouver on Tuesday, rallying from an early two-goal deficit to defeat the Canucks 5-2
Jordan Eberle had a goal and an assist and Martin Jones made 16 saves as the Kraken won back-to-back games for the first time since a five-game run from Feb. 28-March 7
"That's a character win down the stretch here when there's not many games left and two points mean that much more," said Kraken forward Brandon Tanev, who had a short-handed goal to tie the score at 2-2 in the second period. "A lot of guys playing some tough minutes for us, especially on a back-to-back and everybody got going.
Fellow forward Yanni Gourde said the Kraken weren't phased by the early deficit
"It doesn't really matter," Gourde said. "Sixty-minute game. You play the right way, eventually things are going to turn. I didn't think we had a very good start, but we weren't that bad, either, and then when we started playing a little bit faster on the forecheck, recovering pucks. Those little plays, we look better and we look faster. And we're a talented team and we can score."
The Kraken showed that Monday against the Coyotes, as Jared McCann scored twice and Carson Soucy, Morgan Geekie and Ryan Donato each had a goal and an assist
Seattle pulled away with four goals in the third period in the first meeting of the season against the Coyotes. The teams will also play Monday in Tempe, Ariz
"We played two good periods," Coyotes coach Andre Tourigny said. "In the second, they had four scoring chances created and two goals, and that killed us.
Lawson Crouse scored the lone goal for Arizona and goaltender Ivan Prosvetov, who has allowed 15 goals in his past two starts, made 24 saves.
"He didn't make a difference," Tourigny said of Prosvetov. "We needed him to stop the bleeding and he couldn't get it done."
Tourigny gave his team Tuesday off in Seattle before getting back to work.
"We'll get ready on Thursday," Tourigny said. "I need to talk with the guys, review the video and make sure we have the right adjustments and the right mindset for the next game."
--Field Level Media