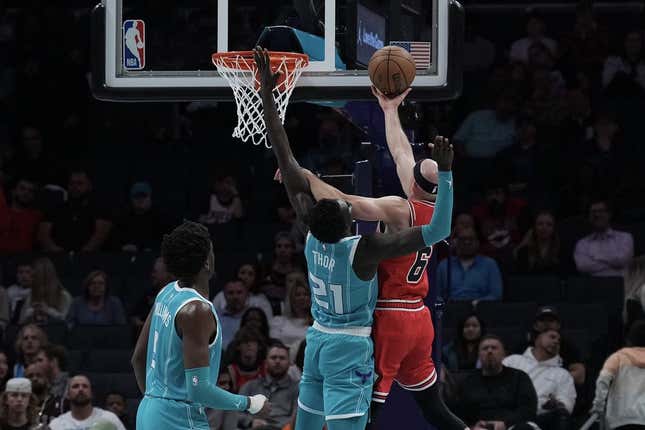 DeMar DeRozan and Zach LaVine scored 23 points apiece and the Chicago Bulls were in control for most of the game in a 121-91 romp past the host Charlotte Hornets on Friday night
'Soccer fandom is full of gatekeepers' says Ted Lasso actor Brendan Hunt
Nikola Vucevic provided 21 points and eight rebounds, shooting 9-for-14 overall to contribute to the Bulls' 51.1-percent shooting from the field
Chicago's Patrick Williams poured in 15 points in a return to his hometown, Coby White added 11 points and Alex Caruso had 10 points in 21 minutes as he continues to deal with a foot ailment.
The Bulls, who had center Andre Drummond (six points, 11 rebounds) back after he missed time for personal reasons, used a 25-7 run across the first 7:40 of the fourth quarter to put the game out of reach
Chicago (37-40) won for the eighth time in its last 12 games to keep its playoff hopes flickering.
It was the end of a three-game winning streak for the Hornets (26-52), who couldn't overcome a roster reduced by injuries. James Bouknight came off the bench to lead the team in scoring with a season-high 22 points, while Svi Mykhailiuk had 16 points and JT Thor added 10 points
Charlotte was without starters Gordon Hayward, Terry Rozier and Kelly Oubre Jr. along with key backcourt reserve Dennis Smith Jr. There was enough spark to overcome their absences earlier in the week, but not in this game.
The Hornets hung around for a stretch because of 3-point shooting, hitting 14 of 37 for the game. Bouknight drained six 3s
Charlotte had little interior threat and ended up going 7-for-10 on free throw attempts. The Hornets were also hurt by committing 21 turnovers compared to Chicago's seven giveaways
Chicago outscored the Hornets by 31-23 in both the first and second quarters. The Bulls scored the first eight points of the game and had a double-figure advantage less than four minutes into the contest
The Hornets had disrupted playoff drives by Dallas (twice) and Oklahoma City with victories as spoilers across the past week
--Field Level Media