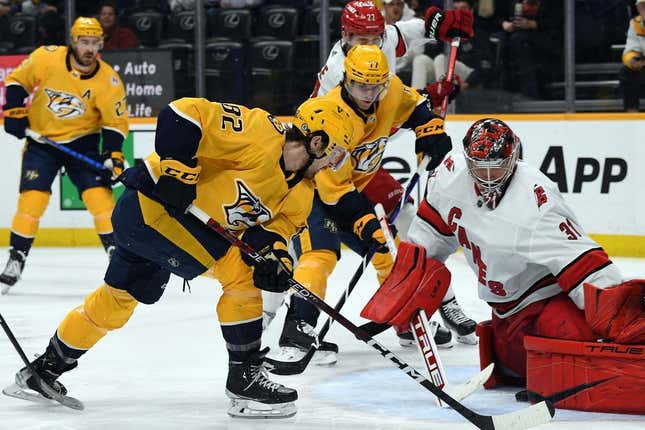 The Winnipeg Jets host the Nashville Predators on Saturday night, in a contest with significant playoff implications for the Central Division rivals
Bass' ERA stinks, but not compared to who he is off the mound | Worst of the Week Countdown
The Jets (43-32-3, 89 points) hold the final wild-card spot in the Western Conference, with the Predators (40-30-8, 88 points) just a point behind. Calgary also is in the mix with 89 points, although both Winnipeg and Nashville have four games remaining while the Flames have just three
That makes the showdown in Winnipeg all the more important.
The battle for the postseason continues when Nashville will be at Calgary on Monday.
The Predators head to Winnipeg applying significant pressure in the standings following a key victory at home Thursday night when they blanked the Metropolitan Division-leading Carolina Hurricanes 3-0
"This is what our goal has been -- to continue to push down the stretch and play in meaningful games," Predators coach John Hynes said. "Obviously, we got another big one in Winnipeg.
The Jets, meantime, stumbled to visiting Calgary on Wednesday 3-1
"We know the position we're in. We'll take our guys against anyone. We're not backing down," Nashville forward Mark Jankowski said. "It's going to be a lot of fun."
Winnipeg led the entire Western Conference earlier in the season, but now finds itself in a dogfight to just hold onto a playoff spot.
Associate coach Scott Arniel said after practice Thursday that the team needs to remain even-keeled.
"We're talking about, really, just zooming in on the moment itself," Arniel said. "If we win three games, we're pretty much guaranteed in. But we can't focus on that, we've got to focus on how each individual player can be a benefit to our hockey club."
The Jets still control their destiny, holding the tiebreaker with 33 regulation wins, compared to the Predators (29) and Calgary (30)
"Nashville is fighting for their lives, so it's going to be another great example of playoff-type hockey," Jets defenseman Brenden Dillon said.. "Tight-checking, low-scoring, and I think for us, it's going to be good lesson... to learn.
Winnipeg, so far this season, is 2-1-0 against Nashville, with one goal separating the teams each time.
--Field Level Media