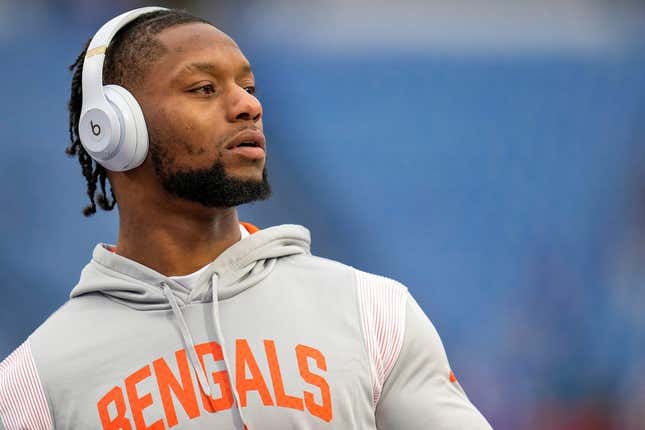 Cincinnati Bengals running back Joe Mixon is not a suspect in this week's shooting incident at his home, according to police records.
How running an NFL team is like running a restaurant | Chef Emeril Lagasse
Authorities in Hamilton County (Ohio) released an incident report Thursday regarding the events of Monday night, when a child was shot in the foot.
According to the report obtained by ESPN, children were playing a game with toy guns that shoot foam bullets in the backyard of the victim's home when shots were fired from a neighboring residence that is tied to Mixon.
The report says an unidentified suspect fired 11 shots, with one striking the child. No charges have yet been filed.
Merlyn Shiverdecker, an attorney representing Mixon, said he expects the entire matter to be resolved soon.
"It's my belief that this thing is probably going to be resolved by this time next week," Shiverdecker told ESPN on Thursday.
The home in question, in the Anderson Township area of greater Cincinnati, was listed as Mixon's residence last month when a warrant was issued for him on a charge of aggravated menacing. That case was dismissed one day after the warrant was filed and Mixon, 26, was not arrested.
Mixon just completed his sixth season with the Bengals, who lost to the Kansas City Chiefs 23-20 in the AFC Championship Game.
Last season, he had 210 carries for 814 yards and seven touchdowns and caught 60 passes for 441 yards and two TDs. In his six seasons, Mixon has rushed for 5,378 yards on 1,314 carries and 40 TDs, along with 231 catches for 1,763 yards and 10 scores.
The Bengals selected Mixon in the second round with the 48th overall pick of the 2017 NFL Draft. A potential first-round pick, he dropped in the draft after concerns about his character. While at Oklahoma in 2014, Mixon pleaded guilty to a misdemeanor assault charge for punching a woman in the face.
Mixon signed a four-year, $48 million extension in 2020 and was named to the Pro Bowl in 2021.
--Field Level Media