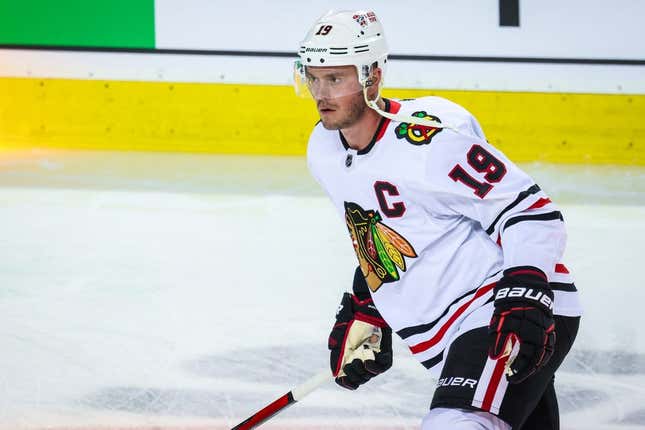 It has been a year to forget for the last-place Blackhawks, but as the season winds down, the potential exit of longtime captain Jonathan Toews could still give Chicago something to play for
Are the Oakland A's a failed state? | Agree to Disagree
Toews and the Blackhawks will look to finish the season strong, and their stretch run continues on Thursday night when Chicago clashes with the host Vancouver Canucks
Toews, who has spent his entire 15-year career with the Blackhawks (25-46-6, 56 points), has hinted that his time in Chicago might be coming to an end
"It's definitely on my mind that this could be my last few weeks here as a Blackhawk in Chicago," Toews said. "So that's definitely very important for me to go out there and enjoy the game and just kind of soak it in and just really appreciate everything I've been able to be a part of here in Chicago."
The three-time Stanley Cup winner missed a significant amount of time this season with symptoms of long COVID-19 and chronic immune response syndrome. His eight-year, $84 million contract is set to expire at the end of this season.
"If I'm being fully honest," Toews said. "... I've gotten to the point where my health is more important."
Speaking to reporters at Tuesday's practice in Calgary, Toews said there has been wide swings of highs and lows this season.
"There's definitely moments when it's hard to feel that (same passion) and (it) feels hard to remember what it feels like to really enjoy the game and playing with that passion, but you stay with it," Toews said.
The 34-year-old Toews has fond memories of playing games in Vancouver, winning gold medals with Canada at the 2010 Vancouver Olympics and the 2006 World Junior Championships.
He had an assist in Chicago's 4-3 win over the host Calgary Flames on Tuesday, which snapped an eight-game slide.
Andreas Athanasiou scored twice, and goaltender Petr Mrazek turned aside 33 shots as Chicago prevented Calgary from moving into a tie with the Winnipeg Jets for the second wild-card spot in the West.
"Any game you come into you want to win," Athanasiou said. "Obviously, we know some teams are fighting for playoff spots and it's a good way to come into a game and kind of be a heartbreaker."
The Blackhawks are juggling an overcrowded nine-man defensive corps on this final Western swing after adding 21-year-old Chicago native Alex Vlasic and have Jarred Tinordi return from a hip injury
The Canucks (34-36-7, 75 points) can only wish they had the same problem, as lack of depth on defense has been an issue all season
Vancouver comes into Thursday's contest having lost four straight following a 5-2 defeat to the Seattle Kraken on Tuesday.
Vancouver blew a two-goal, first-period lead against the Kraken, who scored five unanswered goals.
After a resurgence following a mid-season coaching change that brought in Rick Tocchet, Vancouver is closing the season with a whimper.
"Our last three or four games, we haven't played a good 60 minutes the way we've been playing the previous 10 or 12 games," said Canucks forward Elias Pettersson, who scored his 37th goal and needs three points to reach 100 on the season. "It just feels disconnected. I don't know what it is, but I've got to be better, everyone's got to be better. We've just got to demand more of ourselves.
--Field Level Media