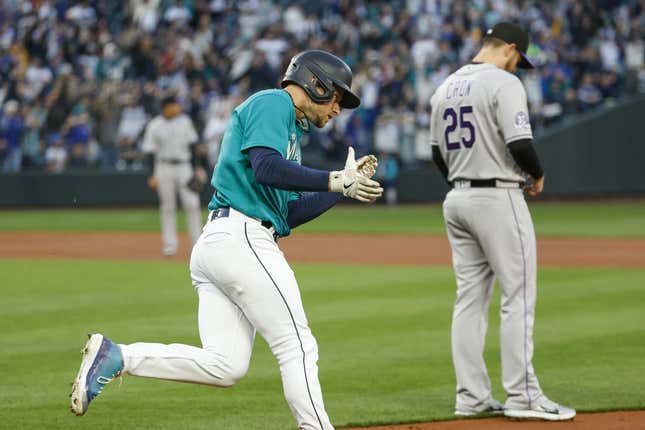 It's one thing to homer with the wind blowing out at Wrigley Field in Chicago.
It's something entirely different to hit a deep shot on a dank night in Seattle.
But the way the Mariners' Jarred Kelenic is swinging, the venue and conditions don't seem to matter
Bass' ERA stinks, but not compared to who he is off the mound | Worst of the Week Countdown
Kelenic hit a two-run shot to straightaway center field in the second inning Friday, leading host Seattle to a 5-3 victory against the Colorado Rockies in the opener of a three-game series. The teams are scheduled to play again Saturday night
It was Kelenic's fourth consecutive game with a home run after terrorizing the Cubs' pitching staff earlier in the week.
"It's some fun to watch. The ball is just exploding off his bat," Mariners manager Scott Servais said. "It's hard to hit a ball out to center in this ballpark at this time of year.
It also was significant as it was Kelenic's first start against a left-handed pitcher this season in Colorado's Austin Gomber. Kelenic was 0-for-3 against lefty relievers previously this season. But against Gomber, his leadoff double in the fourth sparked a three-run inning that made the score 5-1.
"It's no different. Right-handed, left handed -- to me, it's just being on time for the fastball is the most important thing," Kelenic said. "And if I can do that, usually I'll hit the ball hard."
Kelenic said Friday's homer was special because it was in front of the home fans.
"The fans are always great," he said. "You know, it's obviously been a lot of ups and downs (the past two years). But to know that they've got my back is super rewarding. And I'll never be able to tell each and every one of them how much I appreciate it. But that's the stuff that, like, I will never forget that."
Kelenic, 23, is batting .366 for the young season, with four homers and seven RBIs. He hit .181 in his first season in 2021, followed by .141 last year.
And Servais was glad to see Kelenic show some emotion, almost bouncing to the dugout after crossing the plate.
"Different guys show it in different ways," Servais said. "Julio (Rodriguez) has always got the smile on his face. He's kind of joking around. And Jarred is super intense. And that's Jarred. And when he's in a good spot, that's what he's doing. And it does rub off -- the excitement, the energy that both those guys bring, it's fun. That's what young players are about. And that's what's driving the train here."
Kris Bryant hit a solo homer for Colorado and Jake Bird, Dinelson Lamet and Brad Hand combined for 4 1/3 innings of scoreless relief.
That wasn't enough to keep the Rockies from their third straight defeat
"(Bird) did his job. Stranded a couple runners, two scoreless innings, held the fort. As did Lamet for his, and then Brad," Rockies manager Bud Black said. "Gave us a chance to come back, which we did. We were one hit away from tying that game or taking the lead. So the bullpen did their job.
Saturday's pitching matchup will feature two right-handers: Colorado's Ryan Feltner (0-1, 7.45 ERA) against Seattle's George Kirby (0-1, 4.35). Both will face their opponent for the first time.
--Field Level Media