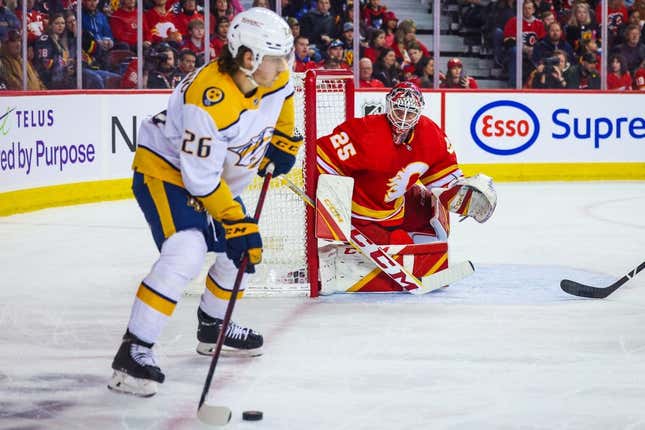 Tommy Novak scored the shootout winner and goaltender Juuse Saros was spectacular between the pipes as the visiting Nashville Predators claimed a 3-2 victory over the Calgary Flames on Monday and keep their slim playoff hopes alive
'Soccer fandom is full of gatekeepers' says Ted Lasso actor Brendan Hunt
With the loss, the Flames (37-27-17, 91 points) were officially eliminated from playoff contention
Novak, in the fourth round of the shootout, completed a forehand deke for the game-winning tally. Nashville (41-31-8, 90 points) is three points back of the Winnipeg Jets for the Western Conference's final wild-card spot.
Both the Jets and Predators have two games remaining
Egor Afanasyev and Zach Sanford scored for the Predators, who have a 12-8 record in games that have gone to extra time. Saros made 43 saves through overtime
Troy Stecher and Mikael Backlund replied for the Flames, who never led in the do-or-die clash. Jacob Markstrom stopped 27 shots through overtime and Andrew Mangiapane collected two assists
Calgary, which is 7-17 in extra-time games, lost a 30th one-goal game.
Afanasyev, the 2019 second-round draft choice, made his 17th NHL game even more memorable when he opened the scoring at the 5:49 mark. Markstrom tried to play the puck from behind his net, but Mark Jankowski stole it and sent a pass to the front of the net for Afanasyev to bury.
It's the sixth consecutive game the Flames surrendered the first goal
Stecher's third goal of the season tied the game at 7:41 of the second period. With Jonathan Huberdeau setting the screen, Stecher fired a long point shot that rang off the post and into the net.
Sanford put Nashville ahead a second time at 4:02 the third period. Cody Glass fired a shot wide of the net, but the puck ricocheted off the referee behind the goal and to the doorstep where Sanford was on the spot to net his second goal of the season. Jake Livingstone collected his first NHL point with an assist.
Backlund again tied the clash four minutes later. After intercepting an outlet pass, Backlund went to the net and finished a three-way passing play for his 19th of the season.
--Field Level Media