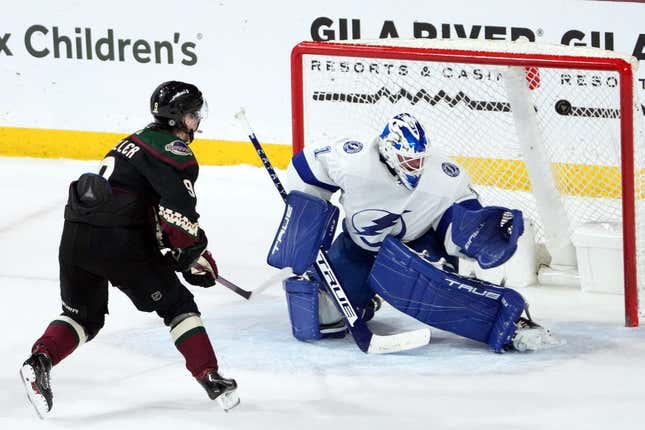 After having their nine-game point streak snapped, the resurgent Arizona Coyotes will try to put a dent into the playoff hopes of the Nashville Predators on Sunday in Tempe, Ariz.
Arizona is seventh in the Central Division but is 5-1-4 over its last 10 games. The Coyotes had their streak snapped with a 6-3 home loss to Calgary on Wednesday as the Flames finished with an eye-popping 51-14 edge in shots on goal including 38-9 after two periods.
Despite the lopsided shot total, Arizona still found itself tied at 3 entering the third period before the Flames scored twice in a 24-second span.
"I think they were desperate, faster, heavier in battle ... they played a better game than us," Arizona coach Andre Tourigny said.
Arizona's point streak was fueled by the scoring of Clayton Keller, who has six goals and 14 points over the last eight games, and Nick Schmaltz, who has scored in five of the last seven games.
The points also came with the Coyotes missing star defenseman Jakob Chychrun for the last six games. Chychrun has been a healthy scratch while rebuilding Arizona explores trade possibilities before Friday's trade deadline.
"We know we're capable of playing good hockey," Tourigny said when asked about the streak. "Maybe it's been good for the guys. Maybe it's great. But for me it doesn't change anything. That streak didn't prove for me something that I did not know. I know we're capable of being a tough team to play against. We're capable of playing good hockey. If we play our 'A' game, we can beat anybody."
The Predators will be finishing up a two-game road trip that began with a 6-2 victory at San Jose on Thursday. Mikael Granlund and Nino Niederreiter each scored two goals and Matt Duchene finished with three assists.
Nashville began Saturday's action seven points behind defending Stanley Cup champion Colorado for the final playoff spot in the Western Conference with just 26 games to go.
The Predators have been without leading goal scorer Filip Forsberg (upper-body) for the last six games, while center Ryan Johansen, the team's top faceoff man who has 12 goals and 16 assists in 55 games, will be out for 12 weeks following surgery on Wednesday after taking a skate blade to the lower right leg in Tuesday's 5-4 overtime victory over Vancouver.
"It's unfortunate news," Predators coach John Hynes told Nashville radio station 102.5 FM when asked about Johansen's injury. "You never want to see a player get that type of an injury where you have to have surgery. Really disappointed for him but also the team.
"You're not able to replace a guy like Ryan. ... He does so much for our team."
Nashville's next two games against the Coyotes and Tuesday at home against Pittsburgh could go a long way to determining whether the Predators are buyers or sellers before Friday's trade deadline.
"I do not think we are a buyer; let's start with that," Nashville general manager David Poile told 102.5 FM last week. "And I think if things don't change more favorably, and get in some kind of winning streak, we certainly could be a seller."
--Field Level Media