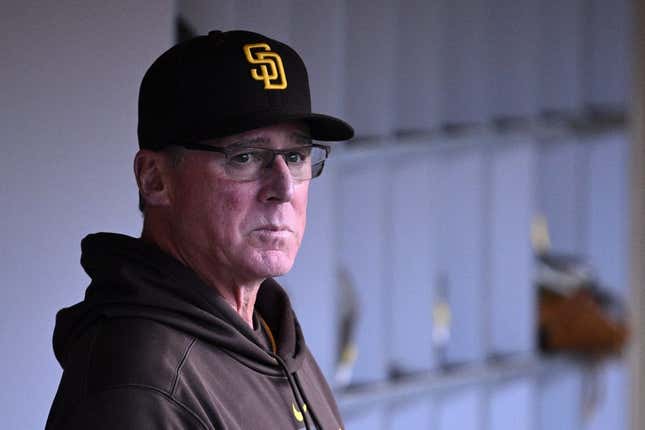 It's too early in the season to call Wednesday afternoon a must-win situation for the San Diego Padres
Are the Oakland A's a failed state? | Agree to Disagree
However, they desperately need a win against a visiting Atlanta Braves club that is seeking a series sweep and a ninth straight win
The high expectations that the Padres carried into Opening Day have turned into an early-season embarrassment
The Padres did score in the eighth inning Tuesday night to avoid tying a franchise record by being shut out in a third straight game. Still, they are 1-5 going into the finale of a seven-game homestand ahead of a nine-game trip that ends in Mexico City
With nine sellouts in their first 12 home games, but only a 4-8 home record to show for it, the Padres are facing mounting pressure
"It stands out more because of the guys we have in the lineup," San Diego manager Bob Melvin said Tuesday after the Padres lost a third straight game and fell for the seventh time in their past nine games
"Everyone is frustrated," Melvin continued. "We were staring down the barrel of a third straight shutout. You get tired at some point of tipping your hat to the pitcher, even though we've faced some good ones. We have to get something going offensively."
Meantime, Atlanta manager Brian Snitker was talking about the prospects of heading home off a possible 6-0 road trip.
"It's good early in the season to get out on the road and play the way we have," said Snitker, whose team is 10-1 outside of Atlanta thus far.
Plus, completing a series sweep on Wednesday would give the Braves a 4-3 season series victory over the Padres after losing three of four in Atlanta
Right-handed veteran Charlie Morton (2-1, 3.86 ERA) will start for the Braves on Wednesday afternoon against Padres right-hander Nick Martinez (0-1, 5.60). Each started during the Padres-Braves series in Atlanta, though not in the same game
Martinez pitched on April 7 and gave up four runs on four hits and five walks with four strikeouts in 4 2/3 innings, getting a no-decision in the Padres' 5-4 win. Marcell Ozuna, struggling at the time, homered off Martinez
Morton started the following day and gave up three runs (two earned) on six hits and three walks with six strikeouts in five innings to get tagged with the loss. Juan Soto homered off Morton.
Martinez could be pitching for more than a win on Wednesday. He might be trying to preserve his spot in the Padres' rotation
Melvin announced Tuesday that Joe Musgrove (broken toe) would come off the injured list on Saturday and make his first start of the season in Arizona. That will give the Padres' seven starters. Although the Padres went with a six-man rotation through much of 2022, Melvin has said he might prefer a normal five-man rotation with the days off the team has coming up
"I like the six-man when you have a lot of games in a row like the stretch we're just completing," said Melvin. "But they don't want to be pitching once a week around days off."
--Field Level Media