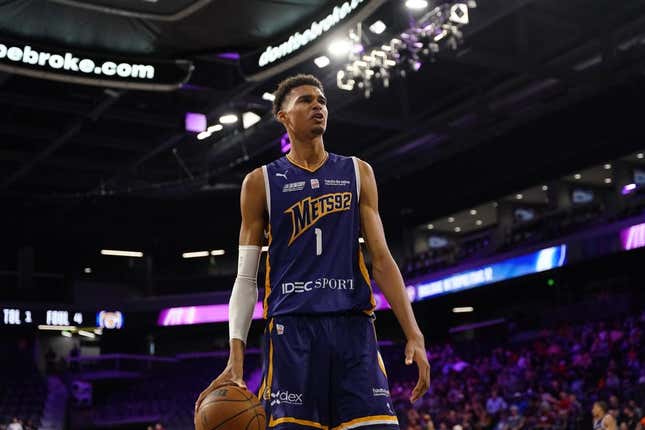 There is complete certainty about Victor Wembanyama being selected No. 1 in Thursday's NBA draft in New York.
How running an NFL team is like running a restaurant | Chef Emeril Lagasse
The uncertainty begins after the 19-year-old French phenom hears his name.
The San Antonio Spurs pick first in the draft festivities and all indications are that they will select Wembanyama, considered the most coveted player in the draft since LeBron James in 2003.
Just landing in the New York area on Monday proved to be a big deal for Wembanyama. People were waiting inside the airport in Newark, N.J., for his flight to land and requesting he sign basketballs and Spurs jerseys.
"I don't know how they knew what flight I was on, but it's fun," Wembanyama said in a video. "It's different, seeing that you can have such impact on people."
Wembanyama's Tuesday agenda included throwing out the first pitch for the New York Yankees' home game against the Seattle Mariners.
The Spurs have landed the top prize twice before with the No. 1 overall choice, selecting David Robinson first in 1987 and Tim Duncan 10 years later.
The Charlotte Hornets have the second overall choice, and that is when the draft's intrigue really begins.
Charlotte still is weighing between G League Ignite guard Scoot Henderson and Alabama forward Brandon Miller.
The Hornets were in deep evaluation mode 48 hours before the draft trying to figure out the right direction.
Henderson didn't play against college-level talent while Miller was one of the best players in the nation.
Some view Henderson as having the chance to be the next great point guard. Charlotte already has a pretty solid ball-handler in LaMelo Ball.
Henderson also doesn't lack for confidence.
"You always want a guy like me, just that dog mentality, my personality, the culture I bring to the locker room," Henderson said after a pre-draft workout in Portland earlier this month. "I'm a great leader, I'll tell what's up, and I can do everything on the floor. I'm gonna go out and bring my 110 percent every day. That's the thing about me: I'm very consistent in effort."
Miller is a terrific shooter and clearly would complement Ball. Nothing on the court concerns NBA teams.
But he is being grilled by teams about his involvement in the mid-January murder of Jamea Harris in Tuscaloosa, Ala. Miller allegedly transported the gun to the scene of the murder.
Miller said he can't discuss it publicly because "it's an ongoing situation." Not surprisingly, he much prefers discussing basketball.
"That I'm here to win ballgames," Miller said after his workout with Portland. "I think one of my goals is definitely to win a championship. I won an SEC championship. I can finally say that. I have a ring under my belt."
The Portland Trail Blazers select third but might not end up with either Henderson or Miller.
Trade rumors have kicked up forecasting Portland may use the third pick as trade bait to appease long-time star Damian Lillard (who turns 33 next month), who doesn't want to see the team enter rebuilding mode.
One possible target is Zion Williamson of the New Orleans Pelicans. Williamson was the No. 1 overall pick in 2019 but has played in just 114 games over the ensuing four seasons. He has been hurt often and doesn't always seem to be pushing hard to return.
There is no consensus No. 4 pick when the Houston Rockets are on the board. Overtime Elite brothers Amen and Ausar Thompson are in the mix, as is Villanova forward Cam Whitmore.
The two Thompsons skipped their season seniors of high school and played two seasons for Overtime Elite. Amen plays both guard positions and Ausar is a wing.
Other possible top-10 selections include Houston forward Jarace Walker, Arkansas guard Anthony Black, UCF forward Taylor Hendricks and forward Bilal Coulibaly of France.
The Detroit Pistons own the fifth overall pick of the draft, followed by the Orlando Magic, Indiana Pacers, Washington Wizards, Utah Jazz and Dallas Mavericks.
--Field Level Media