It's been a little less than month since we told you about Jovan Miller and his boycott of Warrior, Major League Lacrosse's official equipment sponsor, over its use of the hashtag #ninjaplease to promote its products on various social media outlets. Miller, one of three black MLL players, was offended by the slogan's racial undertone. He took to Twitter, giving away all his Warrior gear to his followers and threatening to retire, rather than be forced to use their equipment. Now, according to Lacrosse Magazine, Miller has dropped his boycott and plans to continue his MLL career next summer.
After our initial post, Warrior scrubbed all #ninjaplease references from its Facebook, Twitter and Instragram pages. In a statement to Inside Lacrosse, a Warrior spokesman pled ignorance, claiming the phrase was never meant to offend anyone.
Lacrosse has a race problem; the fact that MLL has eight teams but only three black players makes that pretty clear. In the Lacrosse Magazine article, Miller talks about what it's like being part of such a small minority:
It's not the first time Miller has found himself in the middle of an uncomfortable confrontation about stereotypes in lacrosse. As a freshman midfielder at Syracuse in 2008, he said a teammate made a racially charged joke about what he should be for Halloween.

"He didn't see what was wrong with it. I approached him about it. He didn't want to hear me. So I went to coach [John] Desko and told him, 'I'm not coming back to practice until you address this.' I missed two days of practice, he addressed it, I came back, I talked to the kid and it was over. But I made my stance there," Miller said. "This is an example of being the token black kid."
Miller cited several more examples, from fans suggesting he grow an "afro" hairdo, to supporters at Syracuse questioning his academic commitment, to people calling him cocky because he points to the sky after he scores a goal. Even childhood friends, he said, had parents who called his youth lacrosse coaches in opposition to him qualifying for select teams.

In college, Miller found he often was compared to the Bratton twins, who were dismissed from Virginia for multiple violations of team rules in 2011. Some contended the Cavaliers, who went on to win the NCAA championship, were better off without them.

"When the Brattons messed up, they didn't just mess up for themselves," Miller said. "They messed up for African-Americans like me who do things right, because we're grouped together that way. I hated getting messages when people would say, 'Jovan is a better role model than the Brattons.' I'm not trying to be a better role model than them. Why are you even putting us in the same sentence?"

Similar generalizations, Miller said, have followed him into professional lacrosse.

"I feel like I'm not supposed to fit in here," he said. "What is acceptable? Look at lacrosse right now. Do I have long floppy hair? No I don't. Do I wear lacrosse pinnies on my futon? No I don't. Do I wear mid-calves with boat shoes? No I don't. That's what's acceptable."
G/O Media may get a commission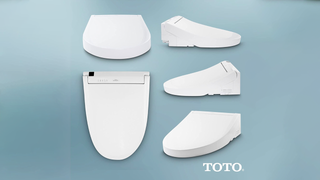 44% off
Toto Washlet Electronic Bidet Toilet Seat
It sounds like it's hard enough to be a black lacrosse player without apparel companies launching racist marketing campaigns. We hope that Warrior manages to keep its shit together from now on.
Miller Ends Boycott, Plans Return to MLL in 2013 [Lacrosse Magazine]