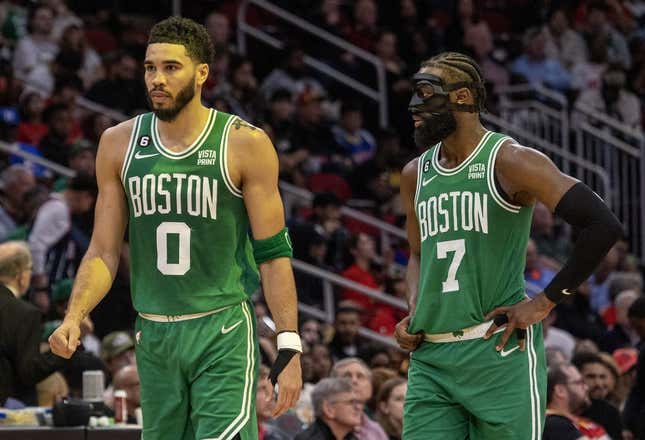 Two of the NBA's top offenses will be on the court Saturday when the visiting Atlanta Hawks open their first-round playoff series against the Boston Celtics
Aaron Rodgers should go full Joe Namath | Comedian Bert Kreischer
Seventh-seeded Atlanta enters the postseason averaging 118.4 points per game, which ranked third in the NBA during the regular season. Second-seeded Boston averaged 117.9 points per contest, which ranked fourth.
Quin Snyder said he recognizes just what his Hawks will face
"They're really connected offensively," said Snyder, who replaced Nate McMillan as Atlanta's head coach in February. "I think it's more than them just having a lot of weapons. I think they have a feel for one another and how they play together. You can see that in the way they play. Their reads are terrific and they (have) a lot of guys that can make plays and they want to do that for one another. Makes them really, really hard to guard.
"I think their versatility defensively is unique also. Some of their different lineups they can put on the floor. I don't know who the Defensive Player of the Year will be, but I know Marcus Smart ... I have tons of respect for him. I just think he's one of those guys that's a heartbeat. They're just really good."
The best-of-seven series will feature three of the NBA's top 10 scorers: Boston' s Jayson Tatum (30.1 points per game/sixth) and Jaylen Brown (26.6 ppg/ninth) and Atlanta's Trae Young (26.2 ppg/tied for 10th).
The Hawks also have depth, as seven players are averaging more than 11 points per game. The Celtics' biggest edge may be 3-point shooting. Boston ranks sixth in 3-point percentage and second in 3-pointers made per game, while the Hawks rank 21st and tied for 24th in those categories, respectively
The Hawks are coming off Tuesday's 116-105 victory at Miami in the play-in tournament. Young had a team-high 25 points and Clint Capela added 21 rebounds
"Very talented team, well-coached," Boston coach Joe Mazzulla said of the Hawks. "They're playing a much different style and identity than even when we played them earlier in the year at their place. And so they have the ability to put a lot of pressure on your defense with their talent and the way they play. And so we have to be very detailed, we've got to be connected defensively and we've got to be very organized on the offensive end
"Since (Snyder's) been there, their offense has been hot, their offensive rebounding has been high, their transition pace has been high, so what you saw is kind of what the identity of his team to be. That's the understanding we have to have heading into the game."
The Celtics won all three regular-season games against the Hawks. Boston prevailed 126-101 in Atlanta on Nov. 16, 134-125 in Atlanta on March 11 and 120-114 in Boston on April 9. With little at stake, both teams rested their starters in the final matchup
"Essentially been waiting for this moment, getting to the playoffs," Tatum said. "The group is locked in, the group is focused. Everybody's back and healthy. So we're just preparing the right way."
--Field Level Media