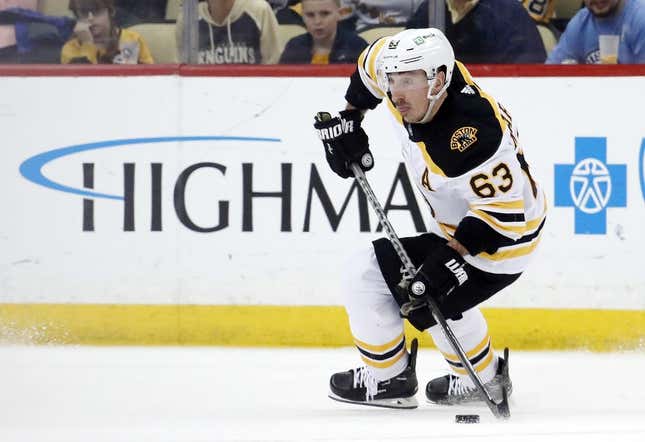 There will be little at stake for the Boston Bruins on Sunday when they skate against the host St. Louis Blues
'Soccer fandom is full of gatekeepers' says Ted Lasso actor Brendan Hunt
Boston (59-12-5, 123 points) already has captured the Presidents' Trophy, which is presented to the NHL team that finishes the regular season with the most points. The Bruins also set the franchise record for victories in a regular season when they posted a 2-1 victory in overtime vs. the Columbus Blue Jackets on Thursday night
"Obviously, to have won the Presidents' Trophy, like I said to the players, be proud of what we've achieved," Bruins coach Jim Montgomery said. "I guess it exemplifies how good of a team we've been, and that's a feather in everyone's hat throughout the organization, including scouts, pro scouts, the job they've done for us, the amateur scouts throughout the years and, obviously, upper management
"Then you look at the players and what they've done. It's the players that get us there, and it's a bunch of work that's gone in throughout the organization to get the right players in the locker room."
The Bruins are chasing the record for most points in a season -- 132 by the 1976-77 Montreal Canadiens -- but might be on cruise control until the playoffs. Boston has six games remaining on its regular-season slate
"Of course you're proud," Bruins captain Patrice Bergeron said. "It was a lot of games, a lot of hard work. I'm proud of the way we've done it by sticking to our process and growing as a team and learning, and really playing for each other. That being said, it's nice, but obviously you have your eyes set on something bigger. We know there's a lot of work in front of us.
Bergeron, who has been battling nagging injuries, didn't play in Boston's 4-3 victory over the Pittsburgh Penguins on Saturday afternoon. Montgomery said he will rest Bergeron against St. Louis as well. Following Sunday's game, the Bruins are off until Thursday, when they will host the Toronto Maple Leafs
The Blues (35-35-6, 76 points) had been playing well until dropping a 6-1 decision to the Nashville Predators on Saturday. St. Louis had a 6-1-1 record in the eight games leading up to Saturday's contest, but the loss left the Blues on the brink of playoff elimination
Special teams continued to hurt St. Louis in Saturday's loss, when the Blues surrendered two power-play goals and another goal when the Predators were shorthanded. St. Louis has allowed 10 power-play goals in its last four games
"PK's gotta get back here for the next six or seven games or whatever we have left," Blues forward Brayden Schenn said. "Just kill off some penalties. We're giving up way too many goals right now.
For the Bruins, David Pastrnak scored three goals in Saturday's victory at Pittsburgh. His third goal broke a 3-3 tie with 2:26 to play and was his 56th of the season. It was the 14th hat trick of Pastrnak's career
Boston killed all six Pittsburgh power plays in the win.
Boston posted a 3-1 win over St. Louis on Nov. 7. Bergeron, Trent Frederic and Jake DeBrusk scored for the Bruins, who received 26 saves from Linus Ullmark
Jordan Binnington recorded 34 saves for St. Louis, which got its goal from Schenn.
--Field Level Media