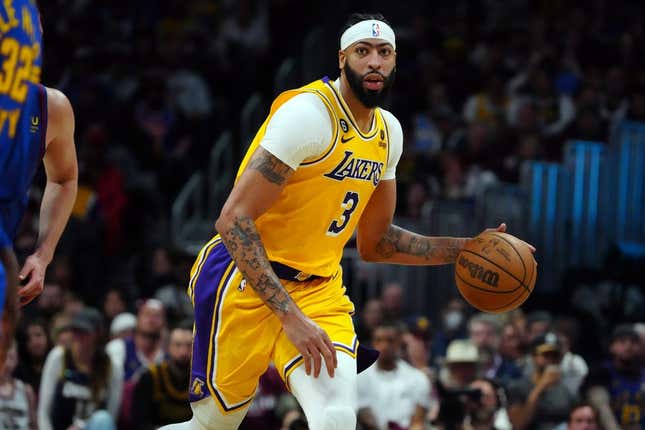 Perfect at home in the playoffs so far, the Denver Nuggets are poised to take a 2-0 lead in their third consecutive series when they host the Los Angeles Lakers in Game 2 of the Western Conference finals Thursday
'Soccer fandom is full of gatekeepers' says Ted Lasso actor Brendan Hunt
The Nuggets used their familiar plan to perfection in the series opener Tuesday, getting heavy doses of two-time MVP Nikola Jokic and plenty from the supporting cast to earn a 132-126 victory
The offensive output -- led by Jokic's triple-double of 34 points, 21 rebounds and 14 assists -- gave the Nuggets their largest point total over 12 playoff games so far this spring. Denver is now 7-0 at home in the postseason
That's a big reason why the Nuggets are 5.5-point favorites at BetMGM, although the line has shifted from 6.5, with the Lakers backed by 58 percent of the bets and 55 percent of the money since opening. Los Angeles' moneyline has been even more popular, drawing 82 and 81 percent of the action, respectively, while shortening slightly from +180 to +170
The line had moved down to the Nuggets -5.0 at BetRivers by Thursday afternoon
DYNAMIC DUO DRIVING NUGGETS
Jokic nearly had his triple-double completed by the end of the first half, falling three assists shy, as Denver led by as many as 18 in the first two quarters and by 21 in the third quarter at 93-72. It was his second consecutive 30-point triple-double and his third in the past five games.
When Jokic made a contested step-back 3-pointer at the end of the third quarter with the Lakers' Anthony Davis in his face for a 106-92 lead, he merely offered a shrug toward the Los Angeles big man
"Sometimes luck is on our side," Jokic said. "It's a crazy shot, of course. It's not something that I work on. I'm glad it went in."
It all fell into place for the Nuggets, who received 31 points from Jamal Murray, 15 points and 10 rebounds from Michael Porter Jr., and 21 points from former Laker Kentavious Caldwell-Pope
"Nikola was great," Nuggets coach Michael Malone said. "His aggression, him driving the ball, dunking the ball in traffic. We always talk about an aggressive Nikola Jokic is a very effective Nikola Jokic. A hell of a job by him.
GO BIG OR GO HOME?
Yet, the Lakers also will take optimism into Game 2. After opening with a smaller lineup of essentially three guards in D'Angelo Russell, Dennis Schroder and Austin Reaves, they went to a bigger look late in the game with Rui Hachimura playing the entire fourth quarter
Twice the Lakers pulled within a possession late in the game, the second at 129-126 on a pair of LeBron James free throws with 1:12 remaining. James finished with 26 points, 12 rebounds and nine assists. After a slow start, Davis had 40 points and 10 rebounds for Los Angeles
Following that performance, BetMGM reported the most popular Game 2 player prop at the sportsbook was Davis being offered at -120 to score more than 24.5 points.
The Lakers shot 66.7 percent in the second half Tuesday and outrebounded the Nuggets 17-11, although Denver still finished the game with a 47-30 rebounding advantage after dominating the boards with 36 in the first half
"It took us a half to get into the game and that was pretty much the ballgame right there," James said. "We have to understand that we have to start from tip off, and they punched us in the mouth to start. I think they had more offensive rebounds than we had total rebounds in the first half and that led to them getting second-chance points."
Oddsmakers are expecting another high-scoring tilt on Thursday night. The Over/Under opened at 225.5 at BetMGM but has moved to 226.5, with the Over drawing 72 percent of the bets and 78 percent of the action.
SWEATING A HOLLYWOOD ENDING
While sportsbooks are a bit exposed to a Lakers upset in Game 2, they are far more sweating a potential Los Angeles run to the NBA Finals
The Lakers have the third-longest consensus title odds among the four remaining teams. That includes being offered at +500 at BetMGM and +550 at BetRivers. As the 7th seed, Los Angeles entered the playoffs at +900 to win the Western Conference and +1600 to win the NBA title at BetRivers
The sportsbook reported that one bettor placed 46 future wagers totaling around $25,000 on the Lakers to win the conference. If they do so, it will result in a $1.2 million payout. The same bettor would stand to win more than $2.6 million if Los Angeles cashes him in on about $30,000 in regular-season wagers on the Lakers to win it all
Consequently, the Lakers are BetRivers' biggest NBA title liability as they attempt to rally from a 1-0 deficit to the Nuggets
"You know, we're encouraged about the second half, and things we can get better at and make some adjustments on going into Game 2," Davis said.
--Field Level Media