So there was that news report that went around a few weeks back, "Singer Billy Joel Quits Green Day." ("The hardest decision I have ever made in my 65 years on this earth.") Or the one the other day, "Punk Photographer Takes Every Middle Finger Personally." ("They are all nice to me one minute and then treat me like garbage the next. Well, no more!") One that I saw a lot of friends share, especially the musicians: "Every Drummer Confident Someone Else Will Bring Kit Tonight." ("At the last Grisly Dismemberment show, all the drummers sat on a lawn chair because no one brought a throne," Skunkboy, a longtime supporter of Grisly Dismemberment, said. "I'm sure they will bring a throne this time, though.")

Then there was January's "Ex-Girlfriend Totally Normal Now," wherein local punk Kyle Watkins is confused by what's happened to his ex-girlfriend Erin McCoy, now happily married with kids. McCoy has lines, no doubt referring to her ex, like, "My boys are a handful, but to be honest I would rather get peed on by one of them than some random guy onstage who thinks he's the reincarnation of GG Allin." It's the kind of nod that time and circumstances change people, but not always entirely; I saw that story get shared by any number of female friends at similar stages in their lives with plenty of knowing comments and signs of approval.
It's all almost real, or clearly not real, or very terribly real. Even though it's all fake. And it all comes from The Hard Times, the brainchild of Bay Area native Matt Saincome. Some people find punk, but in his case, it pretty much found him. "I've been into punk my whole life," he tells me. "It's the first music I started to listen to, because of my older brother Ed. I was strongly influenced by him, and I always ask him, 'Hey, what do you think of this,' just to get a little perspective. I went to my first punk show in elementary school. I was really into the Ramones, and the band was Catch-22 ... more a ska band, or punk-ska. Whatever!"
Saincome talks with the kind of nervy energy that can instantly hot-wire a room, even over the phone. That quick-thinking element undoubtedly helps in both his musical and journalism careers—he's played in bands (Skull Stomp, Negative Choice, and Zero Progress, where he performed as a "bad guy pro wrestler" character called The Champ) since middle school, and currently writes for Vice and the SF Weekly.
G/O Media may get a commission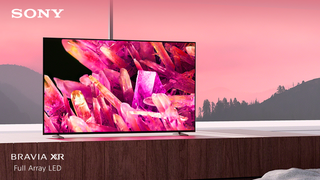 $400 off
Sony 55 Inch 4K Ultra HD TV X90K Series
But The Hard Times might be his most important endeavor. With the motto of "Punk News Comin' Your Way!," the site explores what's happening out there in "the scene"—which, of course, is why it reports stories like the "Definition of Punk Found in Ancient Manuscript" or when "Huge Monday Night Show Draws Almost Every Band Member." There's the initial familiarity of a satirical news site, given the inescapable impact of The Onion, but Saincome— 24 years old and only a couple of years younger than that institution itself—acknowledges the connection while not feeling bound to follow it.
"I like The Onion, and I openly embrace any sort of comparison," he says. "I think it speaks a lot to their success that people think all satire is equal to The Onion, like tissue paper and Kleenex. But we're just a bunch of punk—not stand-up comedians, not all writers—where storytelling is part of our subculture." That may initially sound atypical, but it makes sense when you consider that Henry Rollins became as well known for his spoken word as his music, and Fugazi's Ian Mackaye and Guy Picciotto practically made audience observations—if not direct commands — an art form.

"At shows," continues Saincome, "I would always notice what the frontman or frontwoman would be saying between the songs, some things more than others. That became part of the allure of punk, these characters and personas and jokes that were being told. Some of the best times I've ever had touring with my band has been rolling around on the floor laughing at some of the jokes someone's telling me in Chicago, say. So I think the difference between The Onion and us is that the The Onion is for the everyman, and at this point we're not for the everyman at all!"

It's partially because of this specific focus that The Hard Times has creatively thrived in comparison to straight-up Onion wannabes like The Daily Currant and Empire News. The real genius of the site lies in the humor of the overall team—Saincome mentions a pool of 60 different contributors ("East Coast, West Coast, old, young, black, white, gay, straight"), with editorial work overseen by himself, his brother Ed, and Bill Conway, who runs Edgeland Podcast ('the most straightedge podcast on the Internet')—as well as a wider audience familiarity with such a seemingly insular subject. With punk as we now know it having been around for almost 40 years in America—and hardcore, 35—there are now generations of people who may not have ever attended an all-ages house show, much less performed at one. But, as Saincome agrees, they might know at least a little something.
"Even if you weren't really involved in hardcore, at this point in time in 2015, you know what a mosh pit is, maybe you've watched American Hardcore, or there's that Foo Fighters series with that episode about D.C. that has hardcore all over it," he says. "I think people know enough that allows us to make jokes that resonate with people not just actively into the scene. At the same time, I know we run stories that aren't going to resonate. Often sometimes what we'll do is have the headline be something that more people will understand, that have some idea of punk, while in the body we start listing out jokes that maybe only fans of a band would know — "the songs of their LP were worse than the ones off their EP!'"
Having formally launched this past December (following a soft launch a few months earlier), The Hard Times' swift rise to wider fame is a classic example of honest-to-god virality at work. Stories like "Iggy Azalea Clarifies She Only Listens to Early Skrewdriver" made some initial rounds, but Saincome identifies the one-two January punch of "Ex-Girlfriend Totally Normal Now" and "Deafheaven Bassist Falls Asleep Onstage" — the latter of which seemed like it could be actual news, to the point where it brought public ire via a since-deleted Tweet from the band itself—as the big turning point.
"It just exploded," Saincome says. "We got close to 200,000 views that day! It just kept going and going. We've found that the stories don't really die, they just slowly dip down. Other stories like "Crust Punk House Made Entirely Out of Patches," they have their own little lives to themselves. But when we posted the Deafheaven one, we had a whole bunch of new people tuned in who stuck around, and it's really awesome."
Saincome is both proud of that level of connection while also open about wanting to get even more perspectives onto the site via the contributors' pool, who also now get their own individual or shared writers' credits. He doesn't stint when it comes to noting that it can't all be about guys like himself: "I don't know enough about everything to be in there making these kind of sharp observations. It can't just be from one perspective; it has to be from the whole community. Punk certainly has a majority of males, but it's definitely not all males."
Another reason for the ex-girlfriend post's success in particular has since been replicated across The Hard Times—the comments. In a reversal from the usual advice given these days, you definitely DO want to pay attention to the reader comments on the site, because more often than not, there are plenty of people who either really believe the stories in question, or completely miss the joke involved, even when it's totally obvious. Saincome recalls people who claimed, completely seriously, to have visited the location described in "Crust Punk House Made Entirely Out of Patches," saying things like "I've seen it! It can't be safe for a family to live there."
He also singles out an even more over-the-top example: When their Iggy Azalea story got picked up by a white-power website called the Albion Tribune. "They thought that it was real, and they republished it, in full, in their news section. I was blown away. I mean, obviously they're not the smartest bunch of people, but I was thinking, 'That's not what a news story looks like, dude!' I was talking with my girlfriend, and saying that there must be something wrong with the education system in this country that people aren't media-savvy enough to tell when someone's making fun of something to start with."
Saincome's still pondering where the site might go next, even as its following and content continues to build. Ultimately, he just wants to make sure that a subculture often stereotyped for its humorlessness allows for something else instead. Onstage with his band Zero Progress, "We'd be telling jokes, having a fun time, and in the audience, these self-serious people — it would offend them! If you've read "7 Dead, Hundreds Injured After Joke Told at Punk Show," the guy tells a knock-knock joke and everyone loses their shit. I know there are a lot of things to be upset about—that's part of punk!—but I definitely would say that part of The Hard Times is to say, "Hey, it's okay to laugh once in a while!'"
---
Ned Raggett has written for Pitchfork, the Quietus, Rolling Stone, FACT, The 405, Noisey, Red Bull Music Academy and more besides. He otherwise ponders things in California and tweets at @nedraggett.
Image by Tara Jacoby, original logo courtesy of Matt Klein/The Hard Times
The Concourse is Deadspin's home for culture/food/whatever coverage. Follow us on Twitter.