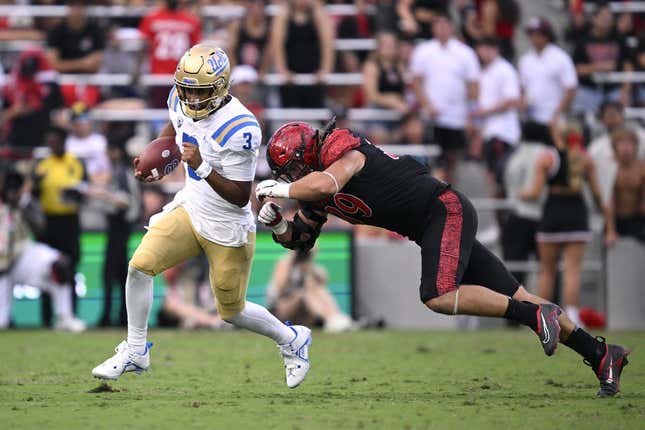 No. 24 UCLA will conclude its non-conference slate on Saturday when it welcomes Mid-Eastern Athletic Conference member North Carolina Central to the Rose Bowl in Pasadena, Calif., for the first meeting between the programs.
How running an NFL team is like running a restaurant | Chef Emeril Lagasse
UCLA (2-0) dominated San Diego State on the road in Week 2 to move into the Top 25 for the first time this season. Notable in the 35-10 rout was that freshman quarterback Dante Moore led the Bruins until late in the fourth quarter, once the outcome no longer was in doubt.
Moore and Week 1 starter Ethan Garbers shared QB duties in the season-opening, 27-13 win over Coastal Carolina. Moore went 7-of-12 passing for 143 yards with two touchdowns and an interception against the Chanticleers, and he finished 17-for-27 for 290 yards and three touchdowns to three different receivers vs. San Diego State.
Bruins coach Chip Kelly had said ahead of Week 2 that he might play three quarterbacks.
Garbers, who completed 10 of 17 passes for 121 yards with a touchdown and two interceptions against Coastal Carolina, did not play in Week 2. Kent State transfer Collin Schlee came on in the fourth quarter and had a pair of runs totaling 35 yards.
"It was good to get Collin finally in and see what he can do, see his athleticism and things that he did (that) were the reason he brought him here," Kelly said during his media availability on Monday.
Despite Moore playing much of the way at San Diego State, Kelly was non-committal when asked after the game if the freshman would be UCLA's full-time quarterback going forward.
Meanwhile, wide receiver Logan Loya, who hauled in a 24-yard touchdown pass from Moore just before halftime in Week 2, said the Bruins' offense has "seen all this" from Moore.
"And we've seen more," Loya said. "So there's definitely more for you guys to see. I think it will excite you guys for sure."
North Carolina Central (2-0) enters Saturday's game with an entrenched starting quarterback, Davius Richard, whom Kelly called an NFL prospect.
The 6-foot-3, 222-pound Richard has been the Eagles' quarterback since his freshman season in 2019. Last year, he helped guide NCC past Deion Sanders-coached Jackson State in the Celebration Bowl and the MEAC final.
After passing for 2,661 yards and 25 touchdowns with 788 rushing yards and 15 touchdowns on the ground in 2022, Richard has 363 passing yards, 137 rushing yards and three touchdowns in each phase to start 2023.
The Eagles opened this season with a 47-21 rout of Winston Salem-State, then held rival North Carolina A&T to 207 yards of total offense in a 30-16 win last week.
This week's matchup will be North Carolina Central's first against an FBS opponent since the Eagles faced Marshall in 2021. NC Central has never defeated an FBS team in 12 all-time matchups.
For UCLA, this will be just the second meeting with an FCS opponent. The first was last season against Alabama State, a 45-7 Bruins victory.
"It's a great opportunity for our guys to take our brand across the country and go over to the West Coast," Eagles coach Trei Oliver said of visiting UCLA. "We have a great alumni base over there, and they're very supportive. And a lot of folks are talking about traveling out there to the game."
—Field Level Media