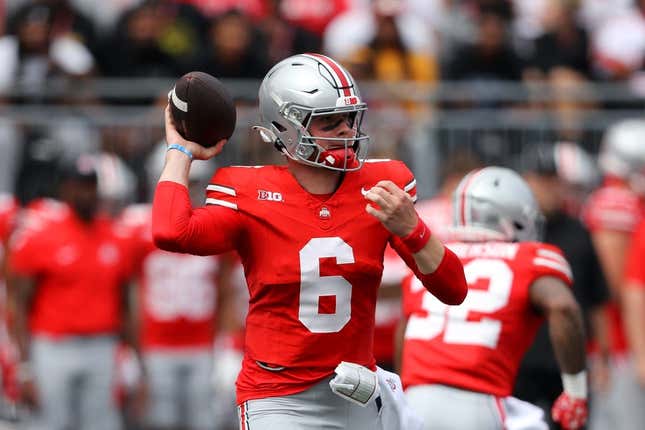 Comfortable cutting the cord, Ohio State head coach Ryan Day decided to hand the keys to a full-time starting quarterback, promoting junior Kyle McCord to the top of the Buckeyes' depth chart.
How running an NFL team is like running a restaurant | Chef Emeril Lagasse
Day said Tuesday that McCord and the Buckeyes are both beneficiaries of moving ahead with an undisputed QB1. The move pushes sophomore Devin Brown to the backup role, which Day said also brings peace of mind to McCord that the job is his.
"It's good for the team to have that distinction that Kyle is the starter," Day said.
Ohio State is No. 6 in the latest Top 25 poll and plays Western Kentucky this week. OSU has a showdown at No. 9 Notre Dame on Sept. 23 in the first major test of the season.
McCord has completed 34 of 53 passes for 497 yards and three touchdowns with one interception.
He entered spring camp as the favorite over Brown to replace C.J. Stroud, the No. 2 pick in the 2023 NFL Draft. McCord said in fall camp that he trusted Day based on his track record, which includes Justin Fields as his full-time starter prior to Stroud.
"Even though it didn't happen right away for me, I know it's a marathon and that if I stuck around, trusted the process, kept getting better, I'd put myself in a good position," McCord said.
—Field Level Media