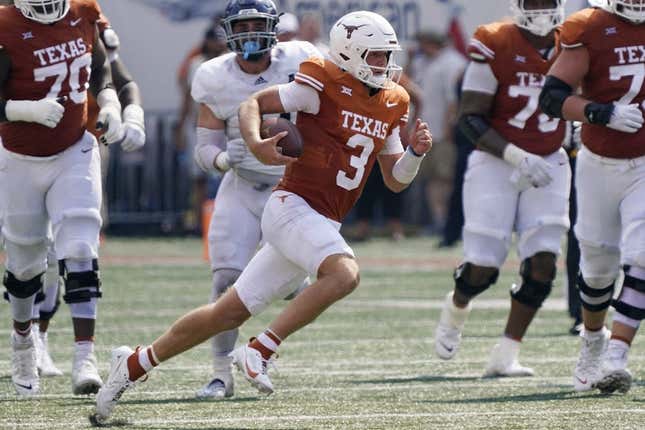 Quinn Ewers passed for 260 yards and three touchdowns and ran for another score as No. 11 Texas dominated the third quarter on the way to a 37-10 win over visiting Rice on Saturday afternoon in the teams' season opener in Austin, Texas.
How running an NFL team is like running a restaurant | Chef Emeril Lagasse
Ewers hit on 19 of 30 passes and connected with six receivers while playing the first three quarters. Seven of his completions were to Xavier Worthy, who amassed 90 yards receiving for the Longhorns.
The Longhorns also got 94 total yards (52 rushing, 42 receiving) from running back Jonathon Brooks. Texas has now defeated the Owls 16 straight times and in 44 of the teams past 45 contests.
Texas outgained the Owls 458-176, while running 75 plays to Rice's 51. The Longhorns' defense intercepted Rice quarterback JT Daniels twice (on back-to-back throws in the second quarter), forced a fumble, allowed the Owls only eight first downs and surrendering just 27 yards rushing.
Rice took advantage of a botched fourth-down play by the Longhorns at their own 33-yard line on the contest's opening possession to move to the game's first points — a 43-yard field goal by the Owls' Tim Horn.
Texas responded with a 37-yard Ewers-to-Jonathon Brooks touchdown pass to push the Longhorns into the lead halfway through the first quarter. The Longhorns added to their advantage via a 27-yard field goal by Bert Auburn two minutes into the second quarter.
Auburn converted a 46-yard field goal to make it 13-3 with 7:51 to play in the second quarter. Auburn's third boot of the half — a 49 yarder as time expired — expanded the Texas advantage to 16-3 at the break.
The Longhorns opened the third quarter with an eight-play, 62-yard march that culminated in Ewers' 9-yard touchdown pass to Adonai Mitchell and a 23-3 lead. Ewers then found a wide open Ja'Tavion Sanders down the seam for a 44-yard scoring catch and run, and the rout was on for real.
Ewers rolled around right tackle and into the end zone on a keeper from 2 yards out late in the third period to cap his afternoon and expand the Texas lead to 37-3.
Rice finally found the end zone on a 15-yard TD pass from Daniels to Luke McCaffrey with 3:04 to play.
—Field Level Media