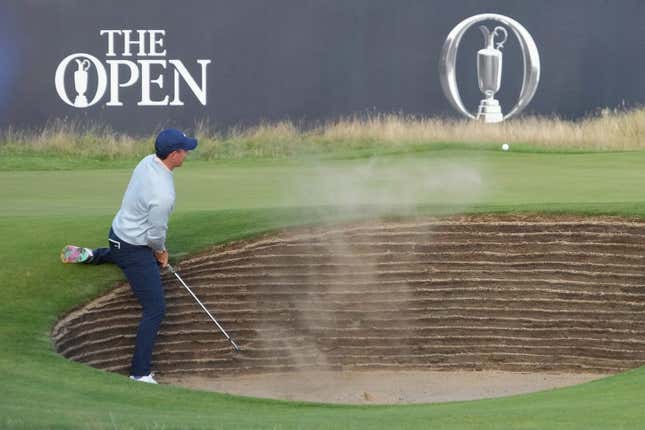 The R&A announced a change to the way Royal Liverpool's bunkers were prepared for the second round of The 151st Open Championship.
How running an NFL team is like running a restaurant | Chef Emeril Lagasse
The announcement came after several high-profile players were tripped up by the small and deep bunkers around Royal Liverpool. Tony Finau attempted to putt out of one bunker. Justin Thomas carded a quadruple-bogey 9 after hitting from one bunker into another and then into deep rough on the 18th hole.
There were several more examples of the struggles players endured on Thursday, when the bunkers were raked flatter than they are for the members. Early during Friday's second round, the R&A announced that the bunkers would be raked more to build up the sides due to drier conditions.
"We would like to advise you of an adjustment we have made to the way the bunkers are raked overnight," the R&A said in a bulletin released Friday. "Yesterday afternoon the bunkers dried out more than we have seen in recent weeks and that led to more balls running straight up against the face than we would normally expect. We have therefore raked all of the bunkers slightly differently to take the sand up one revet on the face of the bunkers. We routinely rake bunkers flat at most Open venues but decided this adjustment was appropriate in light of the drier conditions which arose yesterday. We will continue to monitor closely for the remainder of the Championship."
There are 82 pot bunkers around Royal Liverpool.
After Thomas' struggles on the 18th on Thursday, world No. 2 Rory McIlroy and No. 3 Jon Rahm both found one of the three green-side bunkers on the hole.
Rahm opted to play away from the green to avoid a fate similar to Thomas, while McIlroy managed to get up-and-down for par. Paired with England's Justin Rose, the group spent roughly half an hour on the 599-yard hole.
"Yeah, it's just when you hit it into these bunkers you're sort of riding your luck at that point and hoping it's not up against one of those revetted faces," McIlroy said. "Yeah, Jon and I didn't have much of a shot with our thirds, so then you're just hoping to make par somehow and get out of there."
--Field Level Media