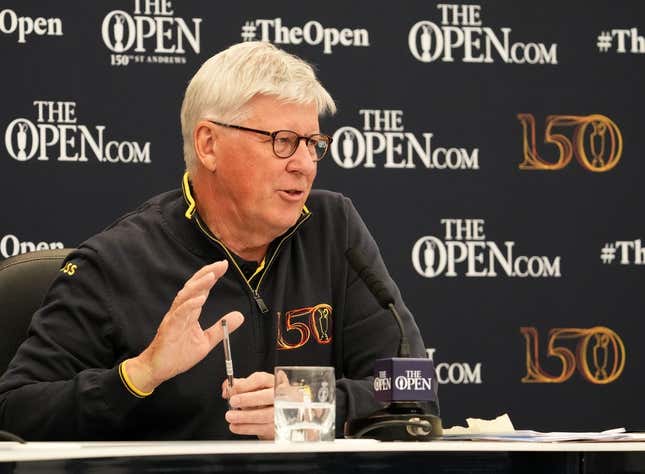 R&A CEO Martin Slumbers said at his pre-Open Championship press conference Wednesday that the golf governing body would entertain taking money from the Saudi Public Investment Fund amid an ever-changing global sports landscape.
How running an NFL team is like running a restaurant | Chef Emeril Lagasse
Slumbers and the R&A welcomed the framework agreement formed by the PGA Tour, DP World Tour and PIF last month, which shocked the world of sports after a feud spanned nearly two years between the PGA Tour and the PIF-funded LIV Golf League.
"To be clear, we're not party to the agreement, and while we absolutely welcome an end to the disruption in the men's professional game, there is a lot still to be understood," Slumbers said. "We will await the outcome with interest. Until then, we intend to focus on what we can control, which is staging our championship successfully, governing with the best interests of the game at heart and doing all we can to get more people playing golf."
That last mission requires funding, and Slumbers said the organization is on track to invest 200 million pounds in golf over a 10-year period.
Slumbers did not say whether the R&A was operating from a position of financial strength or weakness, but during his opening statement he gave a nod toward the PGA-LIV battle by saying, "There's no doubt that our ability to achieve this has been impacted by the much more rapid acceleration in men's professional prize money than we had anticipated or planned for."
Slumbers said the R&A would not consider Trump Turnberry as host of The Open in the near term out of a desire to keep coverage focused on the event.
"Until we're confident that any coverage at Turnberry would be about golf -- about the golf course and about the championship -- until we're confident about that, we will not return any of our championships there," he said.
The 151st Open, beginning Thursday at Royal Liverpool in Hoylake, England, is raising its prize purse to a record $16.5 million.
Slumbers rejected the idea of adding a title sponsor to The Open to raise additional money, but a follow-up question brought up the looming possibility of Saudi involvement.
"If I'm very open, we are and do and continue to talk to various potential sponsors," Slumbers said. "... I think the world has changed in the last year. It's not just golf. You're seeing it in football. You're seeing it in F1. You're seeing it in cricket. I'm sure tennis won't be that far behind.
"The world of sport has changed dramatically in the last 12 months, and it is not feasible for the R&A or golf to just ignore what is a societal change on a global basis. We will be considering within all the parameters that we look at all the options that we have."
Most of Saudi Arabia's interest in funding professional golf -- which critics say is an attempt to "sportswash" its dreadful human rights record -- has focused on the U.S. and the PGA Tour. But documents revealed at a congressional hearing last week revealed that the PIF proposed its governor, Yasir Al-Rumayyan, be given membership in the R&A as well as at Augusta National.
"I think you're seeing the change in the entire business model of men's professional golf, it being able to be worked," Slumbers said, "and that's a significant challenge for us when you take into account our desire to keep growing the game and investing all the proceeds we make into the game."
The R&A on Wednesday introduced the African Amateur Championship, debuting next February at Leopard Creek in South Africa. It will feature 72 players in a 72-hole stroke play event and the winner will be exempt into next year's Open at Royal Troon.
"As custodians of the game, we have to balance the prize fund at The Open with ensuring the appropriate investment in grassroots and new golf initiatives," Slumbers said.
--Field Level Media