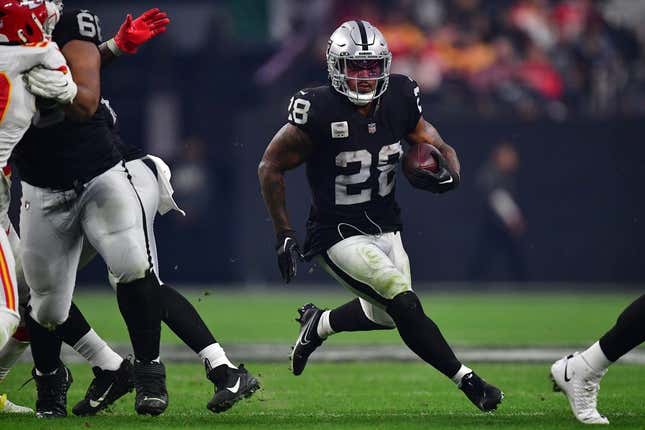 With star running back Josh Jacobs in the early stages of his holdout, Las Vegas Raiders coach Josh McDaniels said he respects the decision of the NFL rushing champion not to report to training camp
Is Texas or Florida State a bigger national title contender? | Agree to Disagree
Jacobs and the Raiders were unable to reach an agreement on a long-term contract before last week's deadline for franchise-tagged players. He then decided not to sign his $10.091 million franchise tender for the 2023 season
"Obviously I can't speak for anything that happened in the meeting," McDaniels said regarding negotiations between Jacobs' agent and the team. "Obviously I wasn't privy to any of that. But, look, I respect every player's right to do what's right for them. That's why the league is what it is in terms of value and contracts. And those things are personal. We all have to go through them.
"I've said it multiple times this spring, I respect him tremendously. I have a great deal of respect for him as a player and a person. What he did for our team last year -- and I look forward to seeing him whenever he is here. And I respect that process too. It's his decision to make. They all have to do what they think is best for them."
Jacobs compiled 1,653 rushing yards on 340 touches (4.9 yards per attempt) and 12 touchdowns while starting all 17 games last season. He added 400 receiving yards to lead the league with 2,053 total yards from scrimmage.
Jacobs, 25, was a first-team All-Pro and received his second Pro Bowl nod.
That's a lot of production not in training camp, and McDaniels said he is fine with waiting for the process to play itself out.
"I respect his decision to ultimately not sign a deal at that point," McDaniels said. "So, right now, I mean, it is what it is. There hasn't been much since the deadline. Certain things can change, we know that, but certainly that's a lot of his decision. And whatever he chooses to do that's his choice. I look forward to seeing him when we see him."
If Jacobs accepted the tender, he would make the ninth-most money among the 2023 Raiders
New York Giants running back Saquon Barkley was upset with his situation, as well, but relented Tuesday and signed a one-year deal with incentives that could be worth $11 million.
McDaniels was asked if the Barkley deal might sway Jacobs.
"I don't know all the details," McDaniels said of Barkley's signing. "I was here doing a bunch of stuff so I'm not exactly sure of the ins and outs on that. But anything can certainly change in that regard."
In 60 games (59 starts) since the Raiders selected him in the first round of the 2019 NFL Draft out of Alabama, Jacobs has rushed for 4,740 yards and 40 touchdowns
Without Jacobs, the Las Vegas ball-carriers include journeymen Ameer Abdullah and Brandon Bolden.
McDaniels also touched on team's addition of cornerback Marcus Peters, a three-time Pro Bowler who has played for three other teams.
"It's an exciting opportunity," McDaniels said. "Marcus has been a very decorated player for the entirety of his career for the teams that he's played for. I've coached against him a number of times and when you're playing against him, always know where he's at because there's a chance you might not want to throw at him.
--Field Level Media