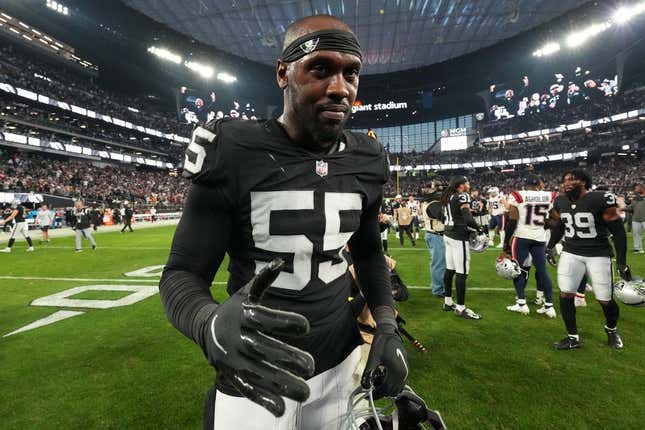 The latest twist in the saga between the Las Vegas Raiders and defensive end Chandler Jones came with more deleted Instagram posts from Jones in which he claimed the team sent a crisis team representative to his house and she said the player was "in danger."
How running an NFL team is like running a restaurant | Chef Emeril Lagasse
Jones, who has been absent for several practices since the end of training camp, initially posted pictures Wednesday night showing the badge of Dr. Heather Thanepohn, clinical program manager of the Las Vegas Crisis Response Team.
Per the deleted posts, Jones wrote, "RAIDERS SENT HER TO MY PLACE SAID .. YOU NEED TO COME WITH US 'YOU'RE IN DANGER' ... THEY HAD ME OUTSIDE IN MY DRAWS LOL.. NAKED."
Jones added before deleting, "THAT LADY WAS RUDE. THEN I GOT TO SHOWING HER SOME OF THEM TEXT. AND THEN SHE SWITCHED UP..BUDDY FROM THE RAIDERS TRIED TO GIVE ME THE LOOK..LIKE 'DON'T SAY ANYTHING.'"
Jones also posted and pulled alleged screenshots of texts between him and Las Vegas head coach Josh McDaniels in which the two-time All-Pro promised not to share any more texts if allowed to play in the Raiders' season opener on Sunday at Denver.
The Raiders have not disclosed any details about what is keeping Jones away from the team, with McDaniels terming it a "private matter" on Wednesday.
Jones, 33, previously claimed in a series of since-deleted Instagram posts on Tuesday that he was unable to gain access to the team gym over the Labor Day weekend.
"F— IT. I DON'T WANNA PLAY FOR THE RAIDERS IF THAT'S MY HC, OR GM," Jones posted.
It was not clear why Jones was unable to enter the team facility.
"It's a shame that I am a top athlete with 112 sacks in the NFL and I have to go to a local gym to work out during the season for no apparent reason this is wild to me Josh and you know it you need to do what's right," Jones also posted, part of an apparent text string with McDaniels.
Jones, entering his 12th season, signed a three-year, $51 million deal with Las Vegas as a free agent in March 2022. He restructured his contract this April to lower his base salary to $1,165,000 this season by converting some of the money due to a bonus.
The four-time Pro Bowl selection recorded 38 tackles, 4.5 sacks and three fumble recoveries in 15 games (all starts) last season, his first with the Raiders.
Jones has produced 511 tackles, 112 sacks and 13 fumble recoveries — including two returned for TDs — in 154 career games (151 starts) with the New England Patriots (2012-15), Arizona Cardinals (2016-21) and Las Vegas.
—Field Level Media