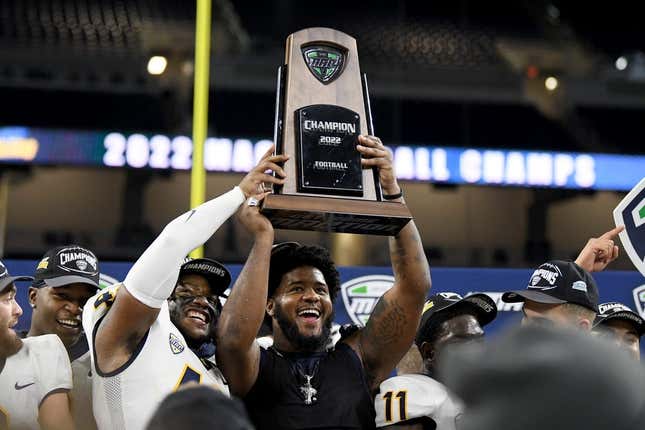 The Los Angeles Rams made Toledo defensive lineman Desjuan Johnson the 2023 "Mr. Irrelevant," selecting Johnson with the 259th and final pick of the NFL Draft
Are the Oakland A's a failed state? | Agree to Disagree
Johnson, who appeared in 54 games (30 starts) over five seasons in Toledo, totaled 14.5 sacks over his college career to go along with 211 tackles (89 solo). He racked up a total of 135 tackles over his final two seasons, including 65 (with 5.5 sacks) in 2022 when the Rockets won the Mid-American Conference.
A 2022 first-team All-MAC selection, Johnson is tied for third in school history with 47 career tackles for loss.
"I feel very blessed to be taken in the draft by the Rams," Johnson said. "It didn't matter to me where I was drafted. I just left it in God's hands. I plan on putting my best foot forward and prove to everybody that I belong. I also feel very fortunate to be playing with one of favorite players, Aaron Donald. I plan on soaking up as much knowledge from him as I can. I'm lucky to be learning from him this early in my career.
The Rams were able to draft Johnson after executing a trade with the Houston Texans for the No. 167 pick, which Houston used to select Alabama linebacker Henry To'oTo'o. The Rams also received the No. 174 pick in the deal, used on Georgia offensive tackle Warren McClendon Jr
Johnson overcame adversity as his father, Dion Johnson, a former Kansas defensive tackle, was shot and paralyzed in 2002 at age 23 in Detroit and died from associated injuries two years later.
Dion Johnson was hoping to catch on with an NFL team and had a tryout with the Chicago Bears on May 11, 2002. The shooting happened that night as Dion Johnson was hit by a stray bullet while driving to a local Blockbuster.
"My dad was on my mind today," said Johnson, who was four years old when his father died. "I feel like my dad is watching over me. He knows what's best for me. I'm just going to work hard and let the rest be in God's hands."
In 2022, Mr. Irrelevant was Brock Purdy, a quarterback out of Iowa State who went on to eventually win the San Francisco 49ers' starting role, leading the 49ers to the NFC Championship Game.
--Field Level Media