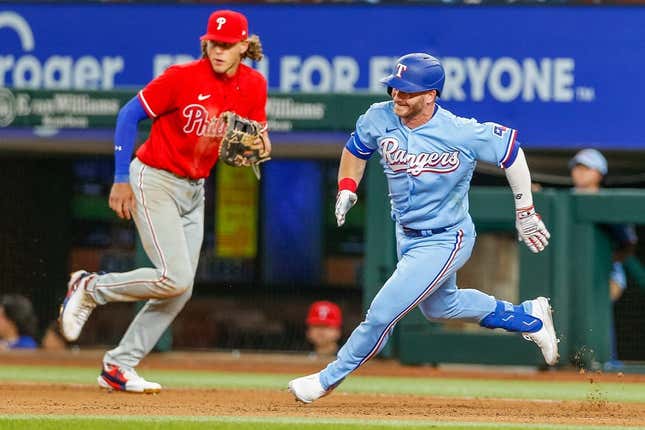 The Texas Rangers and Baltimore Orioles flashed big-time offensive potential during baseball's opening weekend
'Soccer fandom is full of gatekeepers' says Ted Lasso actor Brendan Hunt
That could lead to some high-scoring games when the two teams meet this week for a three-game series starting Monday night in Arlington, Texas.
The Rangers are the highest-scoring team in MLB through the weekend, producing 29 runs in their three-game sweep of the Philadelphia Phillies
The Orioles aren't far behind, scoring 23 runs in their series at the Boston Red Sox. However, Baltimore won only one game
"We swung the bat well enough to (win), but we've got to pitch and play defense," Orioles manager Brandon Hyde said. "We didn't have our best series on the mound or defensively. Those are two things we've got to do better to win series in this league.
It won't be easy to get that fixed against a Rangers lineup that is off to a strong start
The good news for the Orioles, though, is that they dominated the series in 2022, going 6-0 against Texas
The Orioles will look to find those winning ways again behind right-hander Kyle Bradish, who will make his first start of the season
As a rookie in 2022, Bradish went 4-7 with a 4.90 ERA over 23 starts, including one start against the Rangers at Globe Life Field. In that start on Aug. 3, Bradish allowed one run on three hits with three walks and five strikeouts over five innings in Baltimore's 6-3 win
Bradish made five starts in spring training, going 1-1 with a 6.61 ERA.
Offensively, Baltimore has several players off to promising starts. Center fielder Cedric Mullins had two home runs and seven RBIs in the series at Boston; second baseman Adam Frazier had a pair of multi-hit games; and catcher Adley Rutschman had a historic Opening Day by going 5-for-5.
The Rangers, meanwhile, made some history on their own. They scored 27 runs combined in the first two games, tied for the second most in the modern era to open the season. Only the 1951 Chicago White Sox scored more in the first two games, with 30
"Top to bottom, our lineup can bang. It's really fun when we tie it all together. ... It's just a pretty potent lineup," Texas' Mitch Garver said.
Rangers veteran right-hander Jon Gray surely will welcome the run support. Gray will make his season debut on Monday; he went 7-7 with a 3.96 ERA over 24 starts in 2022, his first season with the Rangers after he spent seven seasons with the Colorado Rockies
Gray is 1-1 with a 4.52 ERA in two career starts vs. Baltimore.
The last time Gray faced the Orioles was on Aug. 1 of last season when he exited with an injury. Gray left in the second inning after allowing four runs (three earned) on four hits over 1 1/3 innings
Gray is back to full strength now, at least based off his spring training numbers. He posted a 3-1 record a 1.02 ERA over five games (four starts) this past spring.
--Field Level Media