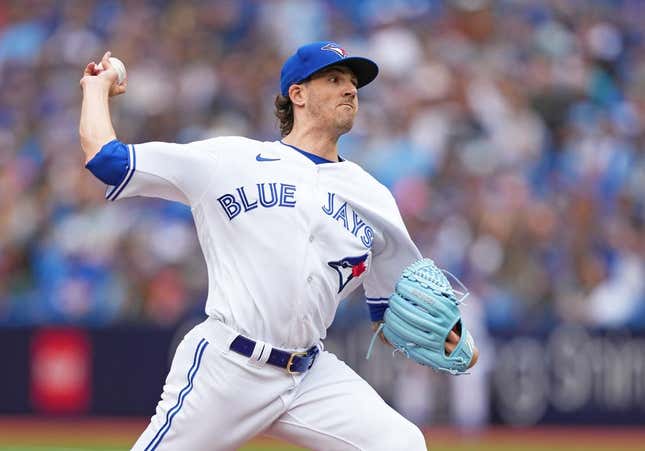 The Texas Rangers will go for a four-game sweep of the host Toronto Blue Jays on Thursday, capping a series with postseason implications for both teams.
How running an NFL team is like running a restaurant | Chef Emeril Lagasse
After learning that right-hander Max Scherzer was out for the regular season, the Rangers went out and thumped the Blue Jays 10-0 on Wednesday, giving them wins in the first three games of the series and five in a row overall.
Scherzer left his Tuesday start during the sixth inning with what was later diagnosed as a teres major muscle strain.
The Rangers put Scherzer on the injured list on Wednesday and recalled right-hander Jonathan Hernandez from Triple-A Round Rock.
Texas then got a strong outing from left-hander Jordan Montgomery, who tossed seven innings and teamed with two relievers on a five-hit shutout. The Blue Jays did not get a runner to second base in the game.
The Rangers received three-run homers from Nathaniel Lowe and Mitch Garver and a two-run shot from Robbie Grossman. Jonah Heim had a run-scoring single, giving him seven RBIs in the series.
Texas has been hit hard by injuries all season.
"This clubhouse has been unbelievable through it all," Rangers manager Bruce Bochy said, "and we'll continue to persevere and focus forward. That's who they are. They've shown how resilient they can be all year."
Scherzer, a three-time Cy Young Award winner, was obtained in a trade with the New York Mets on July 30. He went 13-6 with a 3.77 ERA in 27 starts for the Mets (19) and Rangers (eight) this season.
Martin Perez, Andrew Heaney and Cody Bradford are candidates to pitch in Scherzer's spot in the rotation.
The Rangers entered the series in Toronto trailing the Blue Jays by 1 1/2 games in the American League wild-card race. With the three wins, the Rangers (81-64) have moved ahead of the Blue Jays (80-66) by 1 1/2 games. Toronto also has slipped one game back of the Seattle Mariners (81-65) for the third AL wild card.
Texas is just one game behind the first-place Houston Astros (83-64) in the AL West.
"To come in here and play this well, it does a lot for them," Bochy said of his players. "It just reminds them how good they are. ... We're getting production throughout the order right now, big hits."
The Blue Jays are not getting big hits from many sources, and the fans were booing late in the Wednesday game.
"We're still in a good position," Toronto right fielder George Springer said. "We just need to play better. I think everybody knows that. There's no real secret."
The Rangers are scheduled to start right-hander Nathan Eovaldi (11-4, 2.90 ERA) in the series finale. He is 1-3 with a 5.23 ERA in 12 career outings (11 starts) against Toronto.
The Blue Jays are scheduled to start right-hander Kevin Gausman (11-8, 3.28 ERA). In 10 career games (nine starts) against Texas, he is 5-2 with a 3.43 ERA. Gausman beat the Rangers on June 16, when he threw six innings of one-run ball.
"Everyone knows exactly where we are and we're still right in the thick of the playoff race," Blue Jays manager John Schneider said after the Wednesday game. "As tough as the first three games are, you have Kevin Gausman tomorrow and you have to realize that every little thing is important. And the guys understand that.
"You work all year, all spring to get to this point and you have to enjoy the fact that you're right in the middle of it. Again, the first three games, not great, tonight especially, but you move forward to tomorrow and there's going to be huge games after tomorrow, too."
Toronto's Matt Chapman (sprained right middle finger) has resumed hitting, Schneider said, but there is no timetable for the third baseman's return.
—Field Level Media