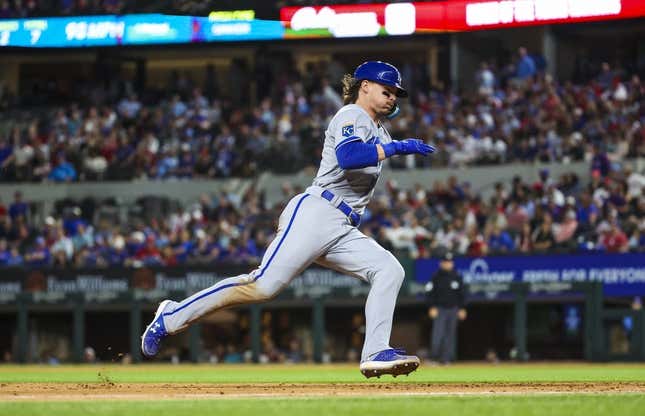 The Texas Rangers are eyeing their second sweep of the season. The Kansas City Royals are looking to avoid being swept for the second time in 2023
That's what is at stake on Wednesday night as the teams close a three-game series in Arlington, Texas.
Jonah Heim hit a three-run homer in the 10th inning to lift the Rangers to an 8-5 victory over the Royals on Tuesday night. Texas breezed to an 11-2 romp in the series opener on Monday
The Rangers were in control most of the game Tuesday, although the Royals rallied for single runs in the eighth and ninth inning to extend the contest. Kansas City claimed its first lead in the top of the 10th, but Texas used a two-out rally in the bottom half to win it
"You have to bounce back. That would have been a hard one to lose," Rangers manager Bruce Bochy said. "They battled back, give them credit. ... But (our) guys did a great job.
Along with Heim, Adolis Garcia delivered a clutch hit with an RBI single to tie the game in the 10th. That was another promising sign for Garcia, who ended an 0-for-16 slump with a grand slam on Tuesday night.
Texas is off to a 7-4 start, the club's best 11-game start since 2013 (also 7-4). The Rangers also have won eight straight series against the Royals, including 10 of the last 12 matchups
It wasn't all good news for the Rangers, though, as shortstop Corey Seager exited with left hamstring tightness in the fifth inning. The Rangers said Seager would continue to be evaluated
Bochy told reporters afterward that Josh Smith would get the majority of playing time at shortstop if Seager is sidelined. Seager, a three-time All-Star, is batting .359 this season.
Texas will look to build off its momentum behind right-hander Nathan Eovaldi (1-1, 4.22 ERA) on Wednesday. In his career, Eovaldi is 3-1 with a 3.66 ERA over seven games (five starts) against the Royals
Kansas City, which has lost six of its last eight games, will counter with right-hander Brad Keller (1-1, 2.61). Keller is 0-2 with an 8.44 ERA in four games (three starts) in his career vs. the Rangers
Offensively, the Royals flashed on Tuesday. Bobby Witt Jr. recorded his third two-hit game of the season and made a terrific defensive play by tracking down a pop-up in shallow left field in the 10th inning
Vinnie Pasquantino matched his career high with three hits. And Kansas City rallied to force extra innings with run-scoring hits by Salvador Perez in the eighth and MJ Melendez in the ninth.
"There were a lot of good things, battled really hard late in the game," Royals manager Matt Quatraro said. "A lot of really positive things. We just didn't come out with a 'W.'
--Field Level Media