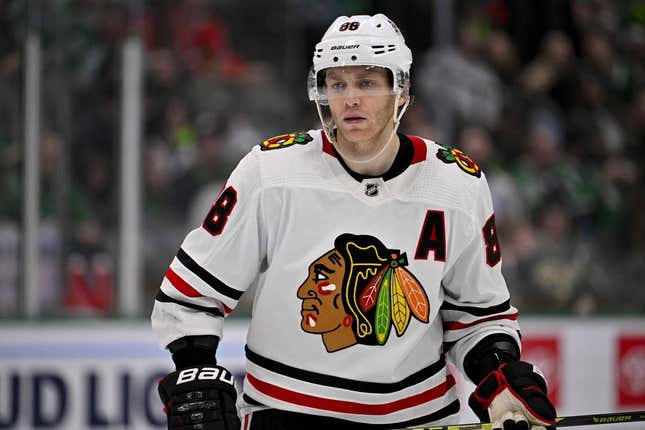 For a majority of the season, the New York Rangers reportedly pursued the Chicago Blackhawks' Patrick Kane.
In the past week, New York general manager Chris Drury and his front office spent significant time figuring out a deal that would work bring in Kane while staying within the salary-cap rules.
On Tuesday, the Rangers officially figured out the details to acquire Kane, and the three-time Stanley Cup champion is set to make his debut Thursday against the visiting Ottawa Senators.
Kane is the player on an second expiring contract the Rangers obtained in the past month. They added Vladimir Tarasenko from the St. Louis Blues on Feb. 9, getting him to waive the no-move clause in his contract.
Until recently, Kane was noncommittal about leaving the team for whom he scored 446 goals after being taken first overall in the 2007 draft. However, when it became apparent that the 34-year-old forward would accept a trade to New York, the Rangers made several maneuvers so they could fit the 25 percent of his salary under their cap.
To make the money work, they involved the Arizona Coyotes by sending a third-rounder in 2025 so the struggling team could retain 25 percent of Kane's salary.
"I think Patrick recognized it was a good fit for him and it's a good fit for us," Drury told reporters on a conference call Tuesday. "We're certainly excited that he wanted to be traded and that it was to the New York Rangers."
Kane is reuniting with Artemi Panarin, his Chicago teammate in the 2015-16 and 2016-17 seasons. Panarin, who scored 61 goals with Chicago, is expected to be Kane's linemate Thursday along with Vincent Trocheck.
Kane joins a team seeking its third straight win. After New York halted a four-game skid with a 5-2 home win over the Los Angeles Kings on Sunday, the Rangers earned a 3-2 win over the host Philadelphia Flyers on Wednesday when Tarasenko scored 2:32 into overtime after setting up goals by Mika Zibanejad and Chris Kreider.
"(Kane) is a great player," said Tarasenko, who scored in his New York debut on Feb. 10. "I had a chance to play against him. It's very good he's joining our team, and (he) will make our team stronger."
Ottawa sits five points behind the Pittsburgh Penguins for the Eastern Conference's second wild-card spot, having climbed into striking distance with a current surge.
Following a 5-1 home loss to the Winnipeg Jets on Jan. 21, Ottawa was 10 points out. Since then, however, the Jets are 10-3-1. Ottawa scored at least five goals in seven of those games, including each of the past three.
After rolling to a 5-2 road win over the Montreal Canadiens on Saturday, the Senators posted back-to-back home routs of the Detroit Red Wings on Monday and Tuesday, 6-2 and 6-1, respectively.
Ottawa forward Claude Giroux scored a power-play goal on Tuesday, giving him 10 goals in his last 14 games. Austin Watson scored twice, Tim Stutzle tallied on a penalty shot and collected two assists, and Alex DeBrincat and Giroux each notched a goal and an assist.
"They know what they have to do to win," Ottawa coach D.J. Smith said. "It's not going to happen every night, but they know the way they have to play."
To enhance the lineup, Ottawa acquired defenseman Jakob Chychrun from the Coyotes on Wednesday for three draft picks.
Chychrun collected seven goals and 21 assists in 36 games for Arizona this season. He will join the team Thursday, and whether he plays against the Rangers will be determined during the morning skate. Chychrun has not played since Feb. 10 amid the uncertainty regarding a possible trade.
--Field Level Media