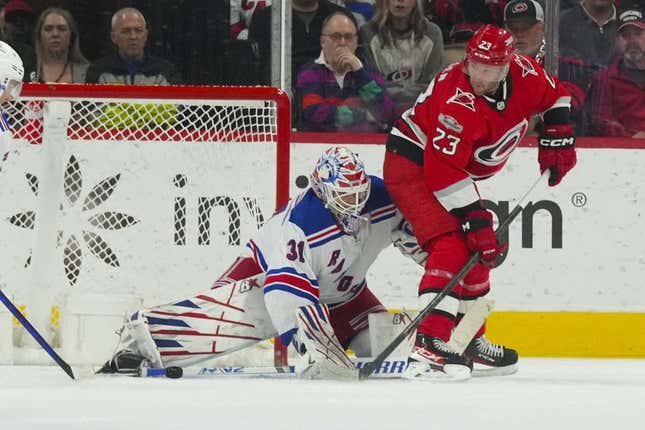 Adam Fox ended a personal 24-game streak without a goal and the New York Rangers beat the Carolina Hurricanes 2-1 to tighten the Metropolitan Division standings Thursday night in Raleigh, N.C.
Bass' ERA stinks, but not compared to who he is off the mound | Worst of the Week Countdown
Artemi Panarin also scored for the Rangers and Mika Zibanejad had two assists. Igor Shesterkin made 29 saves.
Sebastian Aho had a first-period goal for the Hurricanes, who could have clinched an Eastern Conference playoff spot with a victory. Division-leading Carolina has 11 more games to go, so it will have ample chances. Frederik Andersen had 14 saves.
It was the teams' second meeting in three nights after the Hurricanes rallied by scoring three third-period goals to win 3-2 on Tuesday night in New York.
The third-place Rangers (42-20-10, 94 points) have points in eight of their last nine games.
The Hurricanes (46-16-88, 100 points) lost for the fourth time in their last seven games (4-3-0).
Fox has 11 goals this season after trailing the play and taking a pass from Panarin as he was coming down the right side of the slot. He hadn't scored since Jan. 23 vs. Florida.
Aho scored at 16:47 of the first period for his team-leading 31st goal of the season.
Before Aho's goal, the Hurricanes killed off New York's 5-on-3 power play that lasted 1:49. That stretch seemed to bolster the intensity.
The Rangers pulled even on Panarin's goal at 10:33 of the second period. It came on just the eighth shot of the game for New York, giving him 24 goals this season.
The Rangers played without defenseman Ryan Lindgren, who was plus-1 in Tuesday night's game in his first action after an 11-game absence because of an upper-body injury.
Hurricanes captain Jordan Staal played in his 730th game with the team, putting him alone in second place on the games-played list since the franchise relocated from Connecticut to North Carolina. Only his older brother, Eric Staal, played in more games (909) with the Hurricanes.
--Field Level Media