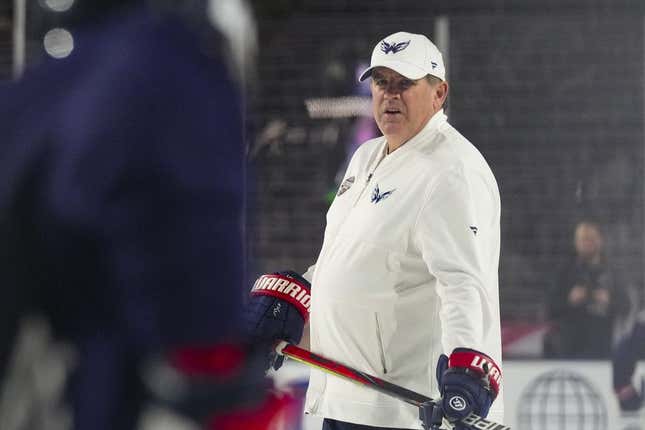 Peter Laviolette was hired as head coach of the New York Rangers on Tuesday, ending a lengthy search for Gerard Gallant's replacement
How running an NFL team is like running a restaurant | Chef Emeril Lagasse
Laviolette has coached four other Metropolitan Division teams and last season coached the Washington Capitals, who missed the playoffs for the first time in his tenure that began in 2020. The club opted not to renew his contract.
Terms were not released by the Rangers. ESPN reports it's a three-year deal
Laviolette, 58, has a career record of 752-503-25 as an NHL head coach. He ranks eighth all-time in NHL history in wins, first among U.S. born head coaches.
He played 12 career games in the NHL, all coming with the Rangers during the 1988-89 season
He stepped out of the frying pan and into the fryer in many ways with Cup expectations brimming around the Rangers and general manager Chris Drury, who makes Laviolette his second coaching hire. Gallant was swiftly shown the door after the Rangers were ousted from the playoffs
"We are thrilled that Peter will be the next Head Coach of the New York Rangers," Drury said. "With Peter's extensive experience as a Head Coach in the National Hockey League, as well as the success his teams have had at several levels throughout his career, we are excited about what the future holds with him leading our team.
Laviolette has taken three teams to the Stanley Cup Final and won with the Carolina Hurricanes in the 2005-06 season. He also went to the Final in 2009-10 with the Flyers and the Predators (2016-17). He has 13 total postseason appearances and a 76-72 record in the playoffs, per the Rangers' release
MSG executive chairman James Dolan said Cup experience helped push the Rangers to Laviolette
"As we move forward in our goal to consistently contend for the Stanley Cup, I am confident that Peter is the right head coach to lead our team," he said in a statement.
--Field Level Media