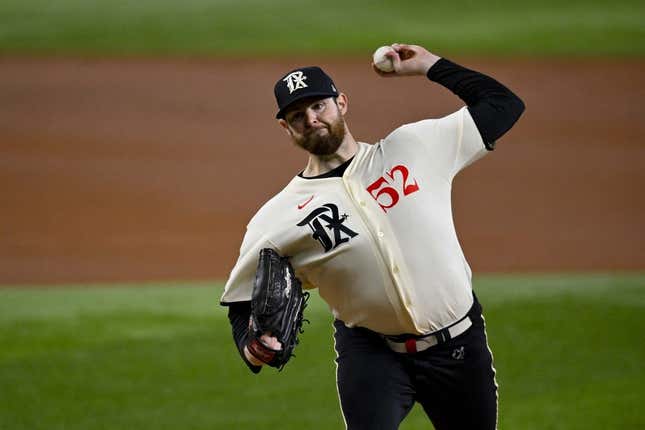 The Athletics would like to do better against the second half of the Texas Rangers' starting-staff makeover than they did against the headliner when they seek to salvage one win in their three-game series Wednesday afternoon in Oakland
Is Texas or Florida State a bigger national title contender? | Agree to Disagree
Hoping to pick up where new teammate Max Scherzer left off in a 6-1-win Tuesday night, left-hander Jordan Montgomery (7-9, 3.40 ERA) will get the ball when the Rangers go for a series sweep and their ninth straight win overall
Scherzer was dominant in his second Rangers start Tuesday, limiting the A's to one run and three hits in seven innings. Two of the three hits were singles; the other was a solo home run by JJ Bleday after the veteran had thrown no-hit ball for three innings
When the game was over, A's manager Mark Kotsay acknowledged his team was overmatched
"Typical Scherzer outing," Kotsay said. "He knows how to pitch. It's why the Rangers went out and got him. He showed up tonight. Our offense just didn't produce.
Montgomery likewise will make his second start since a deadline trade from the St. Louis Cardinals, seeking a second straight win. He had a successful Rangers debut, limiting the Miami Marlins to two runs in six innings in a 6-2 Rangers' home win on Friday
The 30-year-old has yet to get a decision with a 3.80 ERA in four career starts against Oakland
The A's are expected to give right-hander Freddy Tarnok (0-1, 6.75) the bulk of the work early in the game, although Kotsay didn't disclose late Tuesday whether it would be as a starter or a bulk-innings reliever behind an opener
The 24-year-old will make his fifth appearance for Oakland this season after beginning the year in the minors. He's never gone more than three innings, those coming when he threw the seventh, eighth and ninth innings of a 3-1 loss to the Houston Astros last month
Tarnok's only previous start came in an 8-3 road loss to the San Francisco Giants. He served up three runs in 2 2/3 innings, striking out four
He has never faced the Rangers
Tarnok likely will have to deal with two former A's who have enjoyed both team and individual success in the first two games of the series. Robbie Grossman had three doubles in 5-3 and 6-1 wins over Oakland on Monday and Tuesday, respectively, while Marcus Semien has been on base out of the leadoff spot four times with two singles and two walks
The homecoming is extra-special for Semien, who played collegiately at nearby Cal after growing up in the Oakland suburb of El Cerrito
"This is home. This is always going to be home for me," assured Semien, who finished third in the American League MVP balloting in 2019, his fifth of six seasons with the A's. "Anytime I can play at home is going to be fun for me.
Tuesday's outcome allowed each club to reach a milestone of sorts. The win was Texas' 68th of the season, allowing the team to match last year's full-season total, while the loss was Oakland's 82nd, assuring the A's will have a losing season
"Last year is the past," Semien said. "We're playing good baseball. We have a ton of new players, and everybody is on board this year.
--Field Level Medi