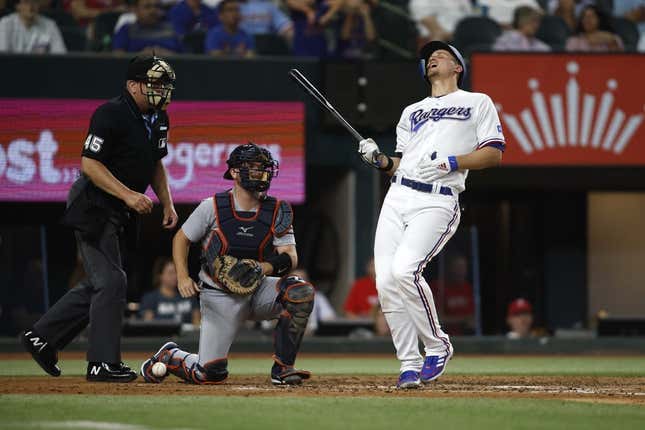 The Texas Rangers are coming off one of their worst offensive games of the year, as they struck out a season-high 16 times in a series-opening loss to the Detroit Tigers on Monday
Is Texas or Florida State a bigger national title contender? | Agree to Disagree
It marked the third straight defeat for Texas, while Detroit won for the fifth time in eight games.
The Rangers will look to get their offense back on track against the Tigers on Tuesday when the teams meet for the second game of a four-game set in Arlington, Texas
Left-hander Martin Perez is the scheduled starter for the Rangers, while the Tigers plan to activate right-hander Matt Manning from the 60-day injured list to make the start
Perez (7-3, 4.38 ERA) earned a victory against the Chicago White Sox on Wednesday in his most recent outing. He threw his seventh quality start of the season, allowing three runs (two earned) on four hits with two walks and two strikeouts over seven innings.
In his career vs. the Tigers, Perez is 2-5 with a 6.47 ERA in 12 appearances, including 11 starts. He pitched at Detroit on May 30, getting a no-decision after giving up six runs on seven hits with four walks and three strikeouts over 4 2/3 innings
Along with their 16 whiffs on Monday, the Rangers went 0-for-10 with runners in scoring position and left nine on base in their 7-2 loss. Texas' only runs came via solo homers by Marcus Semien and Adolis Garcia
Rangers manager Bruce Bochy didn't express too much concern about the offense's struggles
"It's the ebbs and flows of the season," Bochy said. "You're going to have these lulls. We'll come out of it."
Manning (1-1, 4.63 ERA) threw four scoreless innings, allowing one hit with five walks and six strikeouts in his last rehab start for Triple-A Toledo on Thursday. It was Manning's third rehab start since landing on the IL after a comebacker broke his right foot during an April 11 start at Toronto.
Manning, the ninth overall pick in the 2016 draft, has made one career start against the Rangers. He earned a win by allowing two runs (one earned) on four hits with two walks and four strikeouts over six innings on July 21, 2021
The Tigers are coming off a game in which they got a three-run home run from Andy Ibanez and a two-run shot from Jake Rogers. Ibanez, a former Ranger, has hit safely in six of his last eight games, but he surely had a little extra incentive on Monday. Detroit manager A.J. Hinch described facing a former team as a "revenge tour.
"You just don't want these guys to try to do too much," Hinch said. "But, when they do a lot, it's pretty sweet. A lot of positive reaction. Andy's swing (Monday) was very big."
The Tigers also added another right-handed bat to the fray on Monday, recalling third baseman Tyler Nevin from Toledo. Hinch said upcoming matchups against left-handers such as Perez factored into the organization's decision to make the call
"It's tough. We only have two left-handed hitters now," Hinch said. "We certainly have an imbalance of that, but this week, I think it makes a ton of sense to have as many right-handed options as possible."
Nevin has a .128 batting average (5-for-39) in the majors this season. At Triple-A Toledo, he batted .304 (52-for-171).
--Field Level Media